Toxic Twitter
How Twitter generates millions in ad revenue by bringing back banned accounts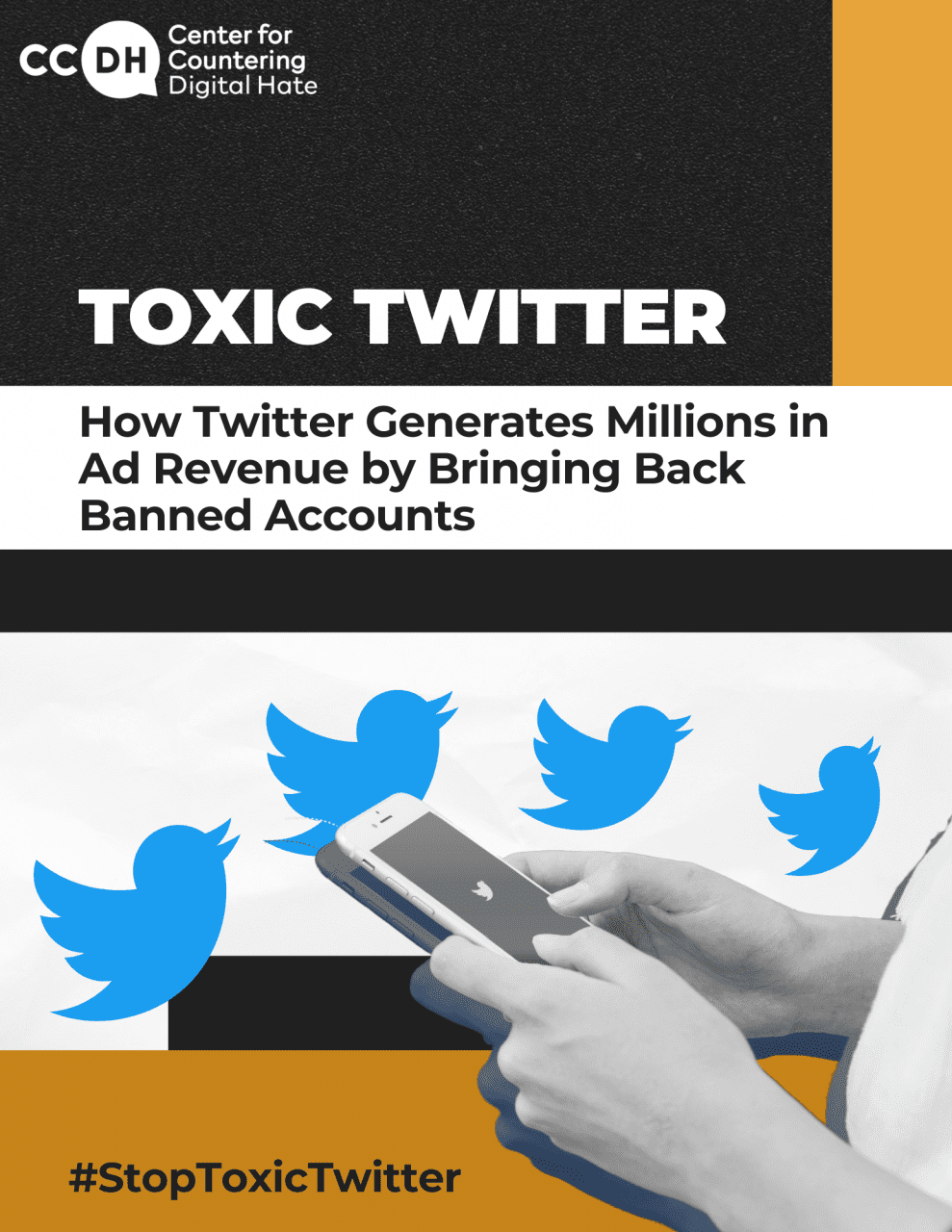 New research by the Center for Countering Digital Hate (CCDH) has discovered that previously banned Twitter accounts are generating millions of dollars in advertising revenue for the platform.
About
Twitter stands to make up to $19m a year from ads on just ten toxic reinstated accounts
Since announcing his policy of a "general amnesty" for banned Twitter users in November, Elon Musk has reinstated tens of thousands of accounts, including neo-Nazis, white supremacists, misogynists and spreaders of dangerous conspiracy theories.
Now new research by the Center for Countering Digital Hate estimates the value of these reinstatements to Twitter, providing further evidence that Musk's decision to welcome them back is driven by a desperate drive for revenues.
By analyzing new publicly available figures on tweet impressions, the Center estimates that just ten reinstated accounts renowned for publishing hateful content and dangerous conspiracies will generate up to $19 million a year in advertising revenue for Twitter.
The analysis shows that the ten accounts have already amassed 2.5 billion tweet impressions since Twitter rolled out publicly visible impression-counts on 15th December 2022, putting them on track to reach 20 billion impressions over the course of a year. The Center has also found ads appearing next to toxic content from each of these reinstated accounts, showing how companies are putting their brand safety and consumer trust at risk by continuing to advertise on Twitter.
Some of those brands include Apple, Amazon, and the NFL.
The ten reinstated accounts were selected to highlight the various kinds of problematic content that Twitter's advertisers are now supporting. They are:
Andrew Tate, the influencer and former kickboxer known for posting extreme misogynistic videos. He has said that rape victims "bear some responsibility" for being raped and that he would threaten women who accuse him of cheating with a machete.
Robert Malone, a doctor who has built up a following by pushing falsehoods about Covid vaccines, while also claiming to have played a key role in their development. He has claimed that the "science is settled" that Covid vaccines "are not working".
Andrew Anglin, an American neo-Nazi who founded the Daily Stormer website, which takes its name from the Nazi propaganda sheet known as Der Stürmer.
Gateway Pundit, an online media outlet notorious for its promotion of disinformation, including claims around vote tampering, climate denial and Covid misinformation.
Emerald Robinson, the former Newsmax reporter who was sacked and suspended from Twitter in 2021 for claiming that the Covid vaccine contains a satanic marker.
Rogan O'Handley, a Hollywood former entertainment lawyer turned far-right conspiracy theorist, who has been criticized for fanning the flames of vaccine conspiracies in the wake of the NFL athlete Damar Hamlin's heart attack.
Peter McCullough, a doctor known for pushing misinformation about Covid. He has claimed that health officials withheld treatments for Covid in the early days of the pandemic in order to spread fear and push people into taking a vaccine.
Stew Peters, a former bounty hunter who produced the film 'Died Suddenly', which promotes false claims about Covid vaccines.
Ronnie Steven Islam, known as "Rizza" Islam, is an internet personality who regularly posts antisemitic, anti-LGBTQ+ and anti-vaccine rhetoric. He was named in CCDH's "Disinformation Dozen", listing twelve of the most influential online anti-vaxxers.
Anthime Gionet, known as Baked Alaska, is a white supremacist internet personality who attended the 2017 "Unite the Right" rally and has been sentenced for his role in the Capitol insurrection.
| | | | | |
| --- | --- | --- | --- | --- |
| Name | Total Views | Daily Views (Since Reinstatement) | Estimated Annual Views | Estimated Annual Ad Revenue |
| Andrew Tate | 1,642,680,664 | 34,950,652 | 12,756,988,135 | $12,300,021 |
| Robert W. Malone | 291,328,720 | 6,198,483 | 2,262,446,443 | $2,181,404 |
| Rogan O'Handley | 195,153,327 | 4,242,464 | 1,548,499,225 | $1,493,031 |
| Peter A. McCullough | 114,360,075 | 2,433,193 | 888,115,476 | $856,302 |
| Emerald Robinson | 94,385,057 | 2,051,849 | 748,924,909 | $722,098 |
| Gateway Pundit | 93,075,236 | 2,023,375 | 738,531,764 | $712,077 |
| Stew Peters | 68,828,475 | 1,496,271 | 546,138,986 | $526,576 |
| Andrew Anglin | 16,493,433 | 350,924 | 128,087,299 | $123,499 |
| Anthime Gionet | 7,661,913 | 163,019 | 59,502,090 | $57,371 |
| Rizza Islam | 840,762 | 140,127 | 51,146,355 | $49,314 |
| TOTAL | 2,524,807,662 | 54,050,358 | 19,728,380,682 | $19,021,692 |
The data shows that, on an average day, tweets from the ten accounts received a combined total of 54 million impressions. Projecting this average across 365 days, the accounts can be expected to reach nearly 20 billion impressions over the course of a year.
To find an estimate for how often Twitter shows ads, the Center set up three accounts to follow only reinstated accounts and found that after scrolling through 1,039 tweets, an ad appeared at an average rate of once every 6.7 tweets.
Assuming this rate is broadly representative of how often Twitter serves ads, the ten accounts can be estimated to generate 2.9 billion ad impressions throughout the course of a year.
Finally, industry information from the social media analytics firm Brandwatch shows that Twitter ads cost an average of $6.46 per 1,000 impressions. Pulling these elements together results in a total figure of up to $19 million in estimated annual ad revenues across the accounts.
The estimates demonstrate that Twitter will make millions of dollars from a deliberate decision to reinstate accounts that are known to spread hate and dangerous misinformation, and have already had enforcement action taken against them.