5 Things to know about our #HiddenHate report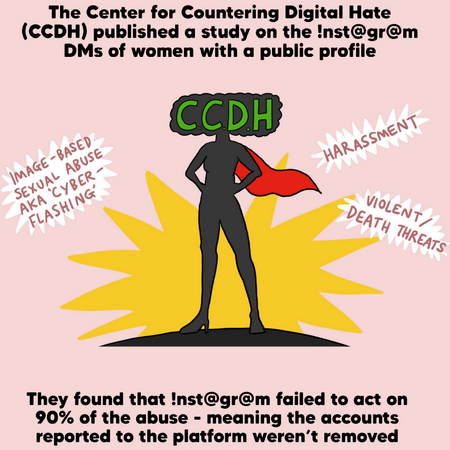 Last week CCDH launched its latest research into the #HiddenHate of Instagram Direct Messages (DMs). We found Instagram fails to act on 9 in 10 reports of abuse in DMs.
Here are 5 things you need to know about our campaign since launching.
1. Instagram did respond to our study… with gaslight
As per Meta's PR playbook, they denied responsibility, deflected blame, and delayed taking action. Cindy Southworth, Head of Women's Safety at Meta told the press in response to our research that "last year we [Meta] announced stronger protections for female public figures." But our report was designed to fact-check this claim and it found 9 out of 10 of the reports of abuse were ignored. Their response was layered lies on top of failure. Meta are gaslighting their users.
2. People shared their stories
We weren't surprised to hear a lot of people come forward with their own stories confirming our research. One of those people was Harriet Walker, fashion editor of The Times. "As a female journalist I am used to getting unpleasant messages from accounts such as these" she told her readers. She ends with a scathing attack on social media companies that they.. "must first decide that this is a problem worth tackling rather than simply telling women not to look." Will Instagram listen to their users and act?
3. Our research is building coalitions of action
Following the publication of our research we bought together a coalition of 27 organizations and individuals from around the world to sign a letter demanding that Instagram and its parent company, Meta, do more to tackle the epidemic of #HiddenHate in Instagram DMs. We'll wait and see if we get a response.
4. Vulgadrawings and CCDH
Feminist cartoonist and CCDH fan @Vulgadrawings (aka the super-talented Lily O'Farrell) created some amazing illustrations on Instagram explaining our work and her own experience. Check it out here.
5. You can demand action on #HiddenHate
If you haven't already – add your name to our letter to Meta and demand that they take action and tackle the #HiddenHate in Instagram DMs. We must keep the pressure up on Meta and demand action