After Facing Public Blowback, X Continues Content Moderation Failure: Nearly 100 Hate Speech Posts Identified Still Live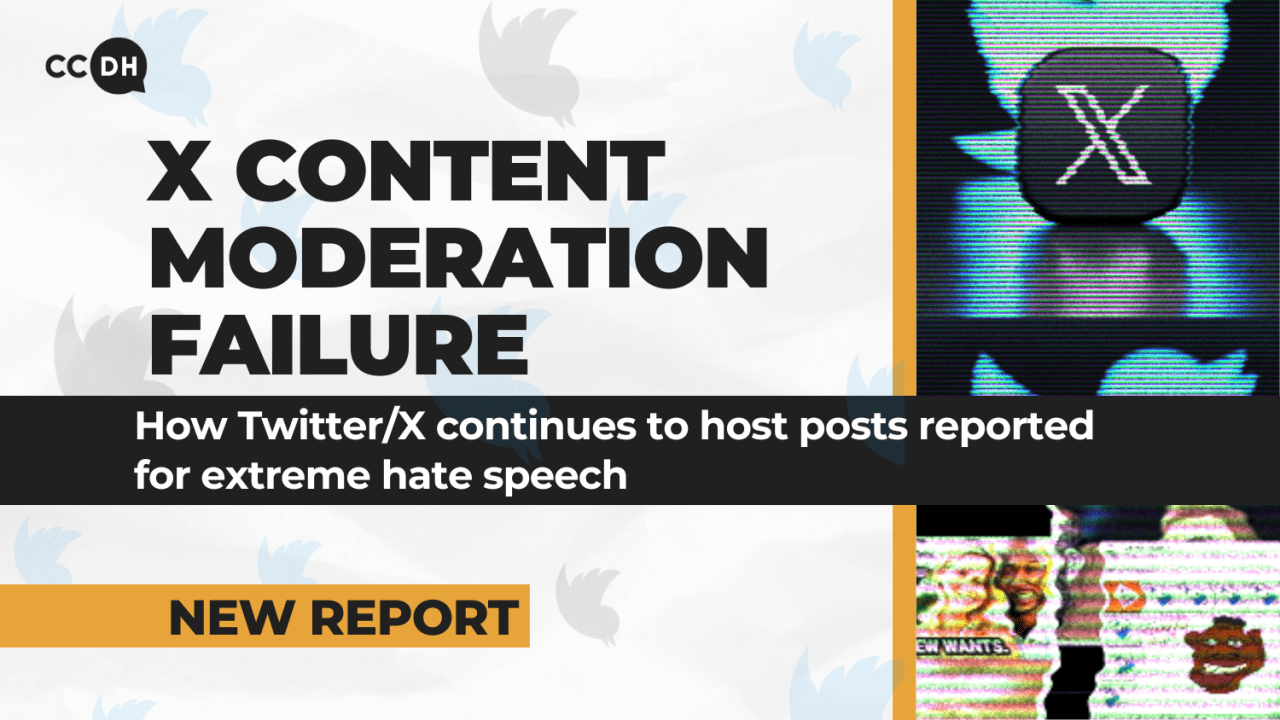 Recent CCDH report showed X continued to host 86% of reported posts containing hate speech, racism, antisemitism
Weeks after CCDH first reported the posts, and days after X faced public blowback, 98 posts still remain up
WASHINGTON, DC (September 18, 2023) – After facing public blowback for a  report published last Wednesday by CCDH, showing X (formerly Twitter) continued to host 86% of a set of 300 posts reported for extreme hate speech, the platform still hosts nearly 100 of the posts with no visible action taken on them as of Friday. The posts reported using the platform's official reporting tools included tweets promoting antisemitism, anti-Black racism, neo-Nazism, white supremacy, and other racism.
A follow-up review conducted by CCDH on Friday, September 15 – more than two weeks after the posts were originally reported to X on August 30 and 31 – showed that while X publicly tried to deflect blame and discredit the findings, the company had continued to take no action against 98 of the vile, hate-filled posts. As of Friday, X was still hosting 32.67% of posts (98 out of 300) that are in clear violation of at least one of X's policies against hateful conduct, including ones praising Hitler and the Nazis, featuring the Swastika, and suggesting that Black men beat White women that they date. 
New analysis also shows that the 300 hateful posts originally reported by CCDH amassed a total of nearly 18 million views (17,971,395) according to X's own analytics. X had previously played down evidence that the content may have reached over 1 million users.
"When we reported the extreme hate posts through their own reporting mechanisms, as normal users would, X failed to remove them within a week in 86% of the cases. It was not until they were publicly exposed as failing to uphold their own rules that they started removing posts – and even now they have left up nearly 100 hate filled posts, continuing to fail their users," said Imran Ahmed, founder and CEO of CCDH.
The most common action X took upon the now-addressed posts was to limit their visibility, which they did for 33.33% of the posts (100 out of 300). However, these posts with what X calls "visibility limited" have 1.6 million views – showing shocking reach for posts that make racist and antisemitic attacks, among other forms of hate speech.
Ahmed responded directly to X's post on Friday calling their stance "outrageous." "X are complaining we didn't send them the posts we reported in advance. We did send the posts to them. Using their own reporting mechanisms. And they didn't take them down," he said.
"Adults take responsibility," Ahmed added.