Facebook failing to flag harmful climate misinformation, new research finds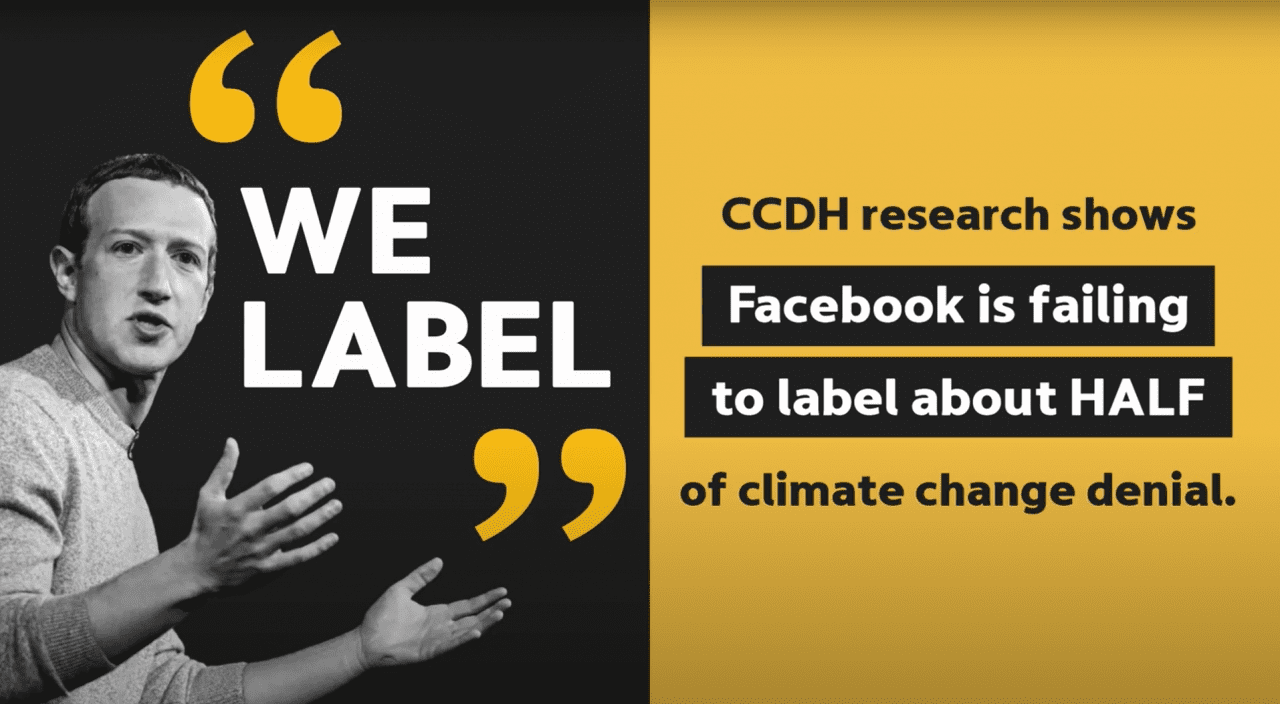 Facebook is falling short of its promises to tackle climate misinformation, according to new analysis from the Center for Countering Digital Hate (CCDH)
New analysis by CCDH finds that the platform fails to label half of posts promoting articles from the world's leading publishers of climate denial
In May 2021, Facebook said it would begin attaching "informational labels" to posts about climate change, directing users to the platform's new "Climate Science Information Center"
In November, CCDH published its Toxic Ten report, which identified the top ten digital publishers whose articles account for up to 69% of Facebook interactions with climate denial articles.
Among the Toxic Ten publishers were Breitbart, the Federalist Papers, Daily Wire and Russian state media.
CCDH researchers have now used the social analytics tool NewsWhip to assess 184 articles featuring climate denial content published by the Toxic Ten. Articles in the sample have accumulated more than one million likes, comments or shares on Facebook.
Using Meta's own CrowdTangle analytics tool, researchers then identified the top public Facebook post for each article in the sample, recording whether or not it was labeled and how many interactions it had received from Facebook users.
They found that 50.5% (93) of the most popular posts associated with articles in the sample carried no information label. The 93 articles without labels had 541,877 Facebook interactions, equating to 53% of total interactions with articles in the sample.
Posts that carried no information label featured articles including:
All articles in the study were published since 19 May 2021—when Facebook announced that it would expand its labels feature to a number of countries, including the US.
Imran Ahmed, Chief Executive of the Center for Countering Digital Hate, said:
"By failing to do even the bare minimum to address the spread of climate denial information, Meta is exacerbating the climate crisis. Climate change denial—designed to fracture our resolve and impede meaningful action to mitigate climate change—flows unabated on Facebook and Instagram.
"Meta keeps claiming it cares about climate change but they have failed to stop the spread of misinformation about climate change on their platform; they have failed even to consistently apply measures that they themselves admit are of limited efficacy, such as labelling.
"The price of Mark Zuckerberg's failure to deal with his platforms' pollution of the information ecosystem is catastrophic damage to our physical ecosystem—including climate change, forced migration, drought and famine."
Michael Khoo, Co-chair of the Climate Disinformation Coalition at Friends of the Earth, said:
"Facebook has consistently shown they can't be trusted. Facebook needs to open the books and lawmakers must step in to require full transparency from them and other social media platforms.
"CCDH's strong research echoes the exposés by Frances Haugen and others: Facebook will say one thing, and yet do another. Facebook should not be trusted and must be regulated, especially as they attempt to escape to the metaverse.
"America and the world need full data transparency of the ecosystem of disinformation, from climate to issues like race, gender or public health."
Alaphia Zoyab, Advocacy Director, Reset., said:
"This research shows how Big Tech has friended Big Oil and does its dirty work of enabling the spread of disinformation about climate science.
"Facebook's toxic algorithms need to be reined in. Europe, with its advanced draft digital laws, must ensure that it forces tech platforms to address such systemic risks that could impact any and all of our fundamental rights."
-ENDS-