Iranian state TV using social media to evade broadcast bans and spread antisemitic hate campaigns, new report finds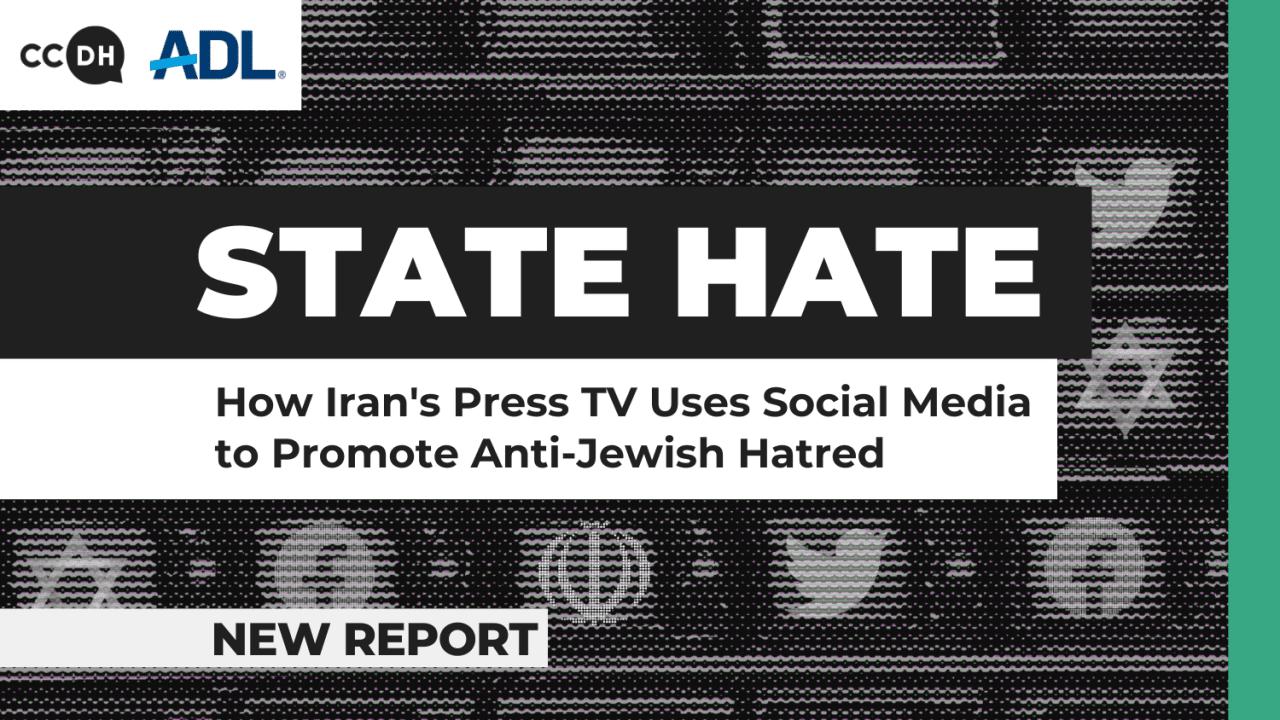 Press TV, a broadcasting brand founded by Iran's state-controlled media corporation, is using social media to evade local broadcast bans and wage an antisemitic foreign influence campaign, a new report has found.
The State Hate report, published by the Center for Countering Digital Hate (CCDH) in partnership with the Anti-Defamation League (ADL), examines the output and online tactics used by Press TV's new Palestine Declassified project. It finds:
Press TV has been removed from television networks and banned by YouTube, forcing it to rely on its remaining social channels to reach an audience of 11.5 million followers – primarily via Twitter and Facebook
Facebook has failed to deplatform Press TV, allowing it to retain an official page, which has more than 3.7 million followers
On Twitter, the official Press TV and Palestine Declassified accounts have 476,734 followers – but this is significantly boosted by a potential reach of up to 7.2 million followers supplied by accounts belonging to supporters
Press TV's website averages over a million visits a month, with audiences from five Western countries collectively accounting for 51% of PressTV's global web traffic
The US accounts for more traffic than any other country, representing 20.5% of the global total as of February 2023. This was followed by the UK and Canada (11.9% and 11.3%, respectively)
A separate analysis of Twitter hashtags suggests that Palestine Declassified's core audience sits on the left of the political spectrum
The report argues that Palestine Declassified should be designated a "foreign state hate operation", finding that it uses social media to spread hatred of Jews in general, and British Jews in particular.
The program promotes a number of antisemitic conspiracy theories, including:
The narrative that an imagined network of "Zionist" individuals and organisations exert disproportionate and excessive influence over global affairs, including intervening in the Ukraine conflict, triggering the ongoing Mahsa Amini protests in Iran – and an alleged "campaign to improve King Charles III's image in the UK Muslim community"
Accusations that Zionists are "grooming" young Jewish and Muslim children into supporting Zionism
The antisemitic narrative that there is a widespread "Zionist stranglehold" over the media and entertainment industry
Accusations that so-called "Zionist" organizations are responsible for "radicalizing US police departments with Islamophobic Zionist counter terror tactics"
The claim that accusations of antisemitism in the UK Labour Party under the leadership of Jeremy Corbyn MP were a "witch hunt" designed to discredit figures on the left of the party
Palestine Declassified's activities have resulted in warnings issued to UK Jewish schools after the project aired claims that they are "turning young Jews outside Palestine into partisans of Zionism" as part of "a process of grooming young people to radicalize them".
More widely, Press TV perpetuates the Iranian state's hateful views of Jewish people, Holocaust denial, LGBTQ+ and women's rights, including:
The report calls on social media companies to:
Set and enforce clear standards on antisemitism
Take account of existing broadcast bans when determining whether social media accounts associated with relevant entities breach platform rules
Recognize Palestine Declassified as a "foreign state hate operation"
Imran Ahmed, CEO of the Center for Countering Digital Hate, said:
"Press TV is a tool of Iranian state influence which exists solely to promote damaging propaganda to the rest of the world, most notably hateful views of Jewish people, the Holocaust, as well as LGBTQ+ and women's rights.
"Press TV's Palestine Declassified project is a foreign state hate operation, perpetuating centuries-old antisemitic conspiracy theories about supposed Jewish hidden influence over global affairs and the entertainment industry.
"Facebook and Twitter are complicit in providing Iranian state propagandists with the reach and amplification they need to evade domestic broadcast bans, and influence millions of new viewers in the West.
"Social media companies in Silicon Valley claim to abhor antisemitism, but they have failed to act against Iranian state propagandists. They have followed their greedy instincts, instead of standing with our Jewish neighbors, LGBTQ+ people and other marginalised groups targeted by Iran's theocratic regime."
Jonathan Greenblatt, ADL CEO, said:
"The Islamic Republic of Iran has long been one of the largest state-sponsors of antisemitism in the world. So it's hardly surprising to see the Iranian regime promoting antisemitic tropes through their official media channels.
"What's so disturbing is the extent to which this hateful propaganda is being spread beyond Iranian audiences to reach potentially millions of people globally on the major social media platforms. Providing that kind of reach to this kind of antisemitic bile is inexcusable, and we urge Meta and Twitter to immediately launch an investigation and to take action to prevent Press TV and the Iranian regime's other media outlets from misusing these social platforms for harm."