TikTok permits videos promoting sale of potentially deadly and illegal bodybuilding drugs to teens – seen up to 587 million total times in the US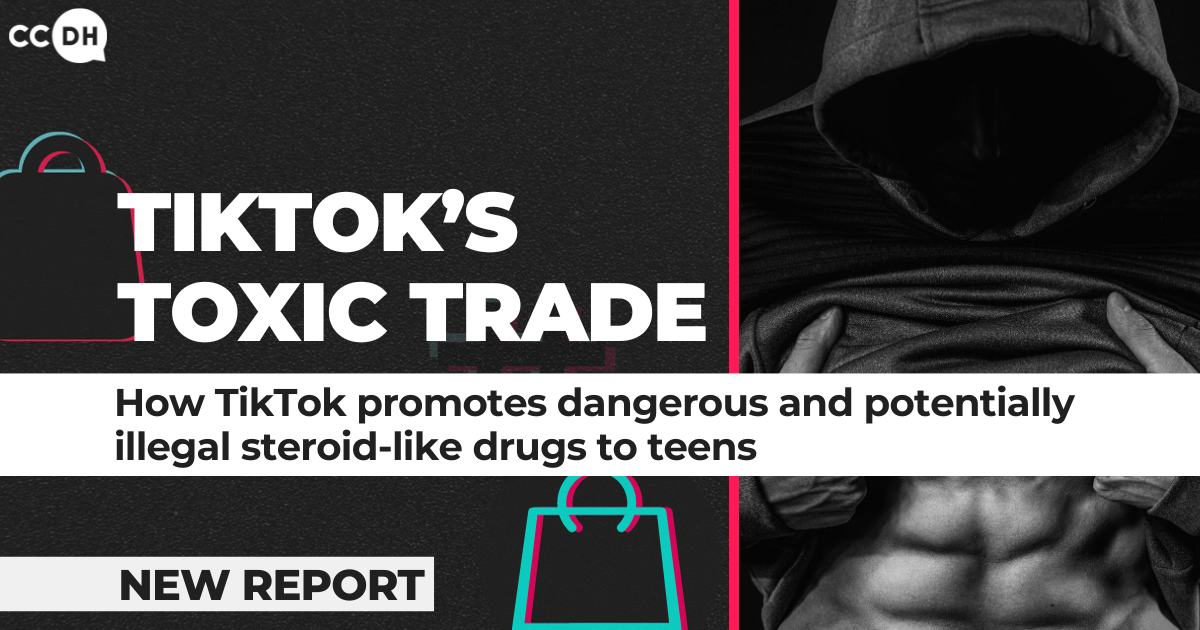 TikTok videos glorifying steroids and steroid-like drugs (SLDs) – and directing users to websites selling them – have been seen hundreds of millions of times, a new report by the Center for Countering Digital Hate finds

These videos have up to 587 million views in the US in three years – including up to 420 million views from adult users aged 18-24 – despite breaching TikTok's community guidelines prohibiting content promoting drug use and facilitating the trade of drugs
TikTok has made it impossible to tell how many users under the age of 18 have seen these videos, meaning the problem could be substantially greater
TikTok has likely become a key marketing channel for vendors of SLDs, who partner with paid influencers. Researchers found 35 TikTok influencers linked to these sites, who have nearly 1.8 million followers combined
WASHINGTON, DC / LONDON – A new report by the Center for Countering Digital Hate (CCDH) reveals the scale of videos on TikTok promoting and glorifying dangerous and potentially illegal bodybuilding drugs to young people.
The substances studied in the report, TikTok's Toxic Trade, include:
anabolic-androgenic steroids (AAS)
peptides
Selective Androgen Receptor Modulators (SARMs),
The report terms all three categories as "steroid-like drugs" (SLDs).
All carry significant health risks, with AAS and SARMs carrying the most significant, such as hypertension and heart attacks. Under US law, AAS are illegal for sale without prescription, while peptides and SARMs are illegal to sell as unapproved drugs for human consumption.
In recent years there have been dozens of sudden, early deaths in the bodybuilding community, sparking warnings about the risks of abusing SLDs.
Overall, researchers found:
Videos posted to TikTok with hashtags that promote the abuse of SLDs have been viewed up to 587 million times by US users in the last three years
US users aged 18-24 years old viewed these videos up to 420 million times in the last three years, accounting for 72% of all US views for videos posted with these hashtags (TikTok does not provide information on the number of views from under 18s)
TikTok is failing to uphold its own community standards, which prohibit content "showing or promoting recreational drug use, or the trade of drugs," and prohibit "showing or promoting young people possessing or consuming… drugs."
Yet, the study identifies 13 vendor websites that have reached a substantial audience on TikTok – primarily through influencer marketing.
CCDH researchers found 35 TikTok influencer accounts actively involved in promoting SLDs through partnerships with these 13 websites.
The 35 influencers have a combined 1,797,800 followers – and their videos have been 'liked' nearly 63 million times in total.
Each of the influencers identified are potentially profiting financially from sales of the drugs. Some partnership schemes offer influencers up to 30% commission on drug sales.
TikTok has enabled websites selling potentially illegal SLDs to reach 540 times as many followers on TikTok through affiliate schemes with influencers as they could via their own TikTok accounts.
Videos promoting these drugs frequently encourage and trivialize SLDs abuse, often by downplaying or ignoring health risks. Examples include:
In several cases, researchers identified videos where users explicitly stated they were under 18 and were taking SLDs to achieve bodybuilding goals. Other videos openly target teenage boys, using hashtags such as #teenfitness and #teenbodybuilding included in the captions.
Imran Ahmed, CEO of the Center for Countering Digital Hate (CCDH), said:
"Too many young people have already died striving for a superhero physique unattainable without drugs – each one leaving behind a trail of grief.
"It is TikTok's job to keep the platform safe, and enforce its community rules, but our research has found that the platform turns a blind eye to the promotion of dangerous and potentially illegal drugs. At the same time, we've found that boys and young men are being bombarded with toxic content that seeks to promote and profit from body dysmorphia.
"According to this warped idea of masculinity, young men are told they're less likely to succeed in life unless they achieve a drug-dependent 'Avengers' body type. TikTok, vendors and influencers all potentially profit from this content at the expense of young men's self-esteem and health.
"TikTok is the platform that has opened up a generational chasm between children and their parents. Kids may be on the sofa right next to their parents, but parents often don't have any idea how the platforms work, what harms fester there, and don't know quite how to intervene or educate their children to these dangers.
"If TikTok is unwilling or unable to keep Americans safe, it's time for Congress to take action to ensure these platforms are fully transparent and can be held accountable when they put lives at risk."