Chinese state media and Ukraine disinformation
Facebook allowing Chinese state media to post extreme disinformation about Ukraine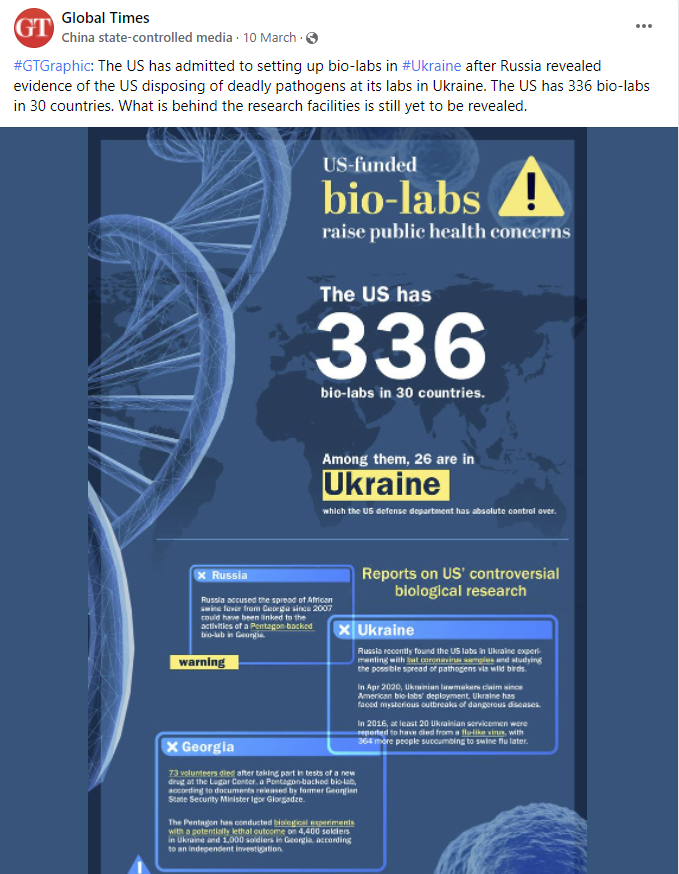 Facebook is allowing pages controlled by Chinese state media to post clear disinformation, conspiracies and propaganda about the invasion of Ukraine that stand in stark contrast with China's declared neutrality.
About
An investigation by the Center for Countering Digital Hate has found that pages that Facebook already recognises as controlled by Chinese state media have claimed that:
Ukrainian leader Vladymyr Zelensky is controlled by George Soros
NATO expansion is comparable to Hitler's attempts to control Ukraine
The US attempting to hide its operation of "biolabs" in Ukraine and around the world
The US is using neo-Nazi groups to "suppress its rivals" in Ukraine
The US is profiting financially from Russia's invasion of Ukraine
The investigation centred on four pages that have been labelled by Meta as "China state-controlled media" including CGTN, Global Times, Xinhua News and T-House with a total of 284 million followers. Many of the most incendiary claims were posted by T-House, which states that its mission is to "expose Western hypocrisy".
A separate analysis by the Center found that Meta is failing to retain nine in ten ads placed by the Chinese state in its ad transparency database.
The Center for Countering Digital Hate recorded ads placed by Facebook Pages controlled by Chinese state media between 4-16 March and found that out of 50 ads placed about Ukraine, 88% were hidden from Meta's ad library after they ran.
Ads recorded by researchers but later removed from Meta's ad library promoted Chinese state media claims that:
the US and NATO want to prolong the war in Ukraine
Western sanctions are ineffective and illegitimate
"Ukrainian radicals" were responsible for attacks on a nuclear plant
Just 12% of the ads displayed data on who Chinese state media had targeted with them. Those that did record this data revealed that they had prioritised users living in regions of Nepal, India, Bangladesh and Pakistan.
Meta's policies state that its "Ad Library" displays all "currently active" ads as well as retaining inactive ads "that are about issues, elections or politics". The platform also promises that ads in the latter category will display data on "who funded the ad, a range of how much they spent and the reach of the ad across multiple demographics".
Researchers also recorded ten ads placed by Chinese state media that promote anti-US or pro-China propaganda, for example promoting the view that the Chinese state is more democratic than the US and attacking "environmental racism" in the US.