Failure to Act
How Tech Giants Continue to Defy Calls to Rein in Vaccine Misinformation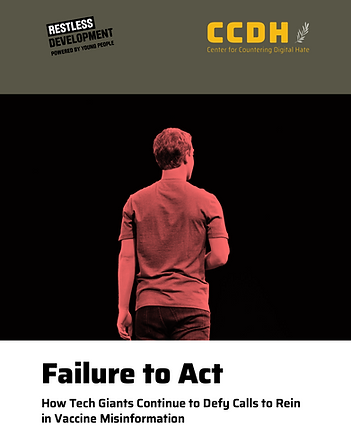 Vaccines are among the safest, most effective and consequential inventions in medical history. They have saved countless people from disease and death.

And yet, despite scientific consensus, vaccines are opposed by a growing social media ecosystem of Counter Enlightenment actors, snake oil salesmen and the misinformed
About
By the time a Coronavirus vaccine is widely available, tens of billions of dollars will have been expended researching and producing it. Vaccines are among the safest, most effective and consequential inventions in medical history. They have saved countless people from disease and death.

And yet, despite scientific consensus, vaccines are opposed by a growing social media ecosystem of Counter Enlightenment actors, snake oil salesmen and the misinformed. This Anti-Vaxx industry, which CCDH calculates is worth a billion dollars a year to social media companies, is, in theory, countered by governments, scientists and fact-based journalism, and yet Coronavirus vaccine hesitancy is growing.

Tech giants realise it would be toxic if people knew how they nurture this deadly ecosystem, so they have made big claims on dealing with Coronavirus misinformation. For this report, we sought to verify their claims. Restless Development and CCDH trained young volunteers in how to identify misinformation.
They scoured Facebook, Instagram, YouTube and Twitter, recording and reporting misinformation through the platforms' interfaces. Of the 912 posts flagged and reported by volunteers, fewer than 19 in 20 posts containing misinformation were dealt with (4.9%). Much debate about misinformation on social media is about automated algorithms and detection.
But this exercise shows that even when companies are handed misinformation on a silver platter, they fail to act. Alongside this report, we polled US citizens' attitudes towards a Coronavirus vaccine. The results are deeply concerning:
The proportion of US adults who probably or definitely won't take a Coronavirus vaccine once it is available is now 29% (it was 26% in our June polling). The proportion who don't know if they will or not is 17%. This combines to a total of the US population who are Coronavirus "vaccine hesitant" of 46% (it was 41% in June).
Among minority communities, Coronavirus vaccine hesitancy is higher still. 58% of African American respondents were Coronavirus vaccine hesitant. 52% of Hispanic respondents were Coronavirus vaccine hesitant.
The proportion of respondents saying they definitely or probably will not vaccinate is higher – 35% – among those who use social media more than traditional media to gain information about Coronavirus than the inverse – 24%. There is also significantly higher belief in various misinformation statements, e.g. 5G conspiracy theories or that the pandemic was planned, among those who get more information about Coronavirus from social media.
There is no major gap in trust levels between white and African American communities in scientists or government: trust in scientists is high; trust in government low. However, African Americans are more likely than white Americans to trust information they receive on social media. A major insight led public health education drive to warn about the dangers of trusting information on social media is urgently needed.
The effectiveness of counternarratives in health misinformation, and uptake of prosocial behaviours, in particular, vaccine promotion, is highly contested. We need people to understand that platforms are unsafe environments in which lethal propaganda flows unhindered.
There is a major gap in vaccine hesitancy between those who voted in 2016 for Secretary Hillary Clinton (29%) and those for President Donald Trump (55%). This suggests a push by the President and his party to persuade their base could be very valuable.

The time for inaction is over. We are offering any government, scientific or civil society body that can make use of our polling or our misinformation database to contact us for access to raw datafiles.

We are also calling on advertisers, legislators and regulators to step up. Users are not the customers of Facebook or Twitter. We're their product; our data packaged and access to us sold to their real customers: the advertisers, who therefore have an outsized influence on them. Over a thousand advertisers protested the lack of action by tech giants on hate and misinformation in July 2020, under the banner of why they and others need to continue to take action until social media companies get the message. Legislators should accelerate plans for holding those companies and their executives accountable for harm done for profit, for example through the UK's Online Harms Bill. US legislators should continue demanding the transparency we need to deal with this problem.
And regulators should use their existing powers to act. The UK's communications regulator, Ofcom, for example, already has the power to regulate some video content as on-demand program services.
They must act against content that urges people to put lives at risk. This is an immediate crisis, with a ticking bomb about to go off in our societies. Inaction has a cost in lives. This is not the first time CCDH or other civil society organisations have warned of the chronic and acute dangers of misinformation. When it comes to hate or misinformation that flows across their platforms, social media companies have proven they do not care and listen only to advertisers and the threat of regulation. They do not listen to polite requests for change. Given the acute nature of the Coronavirus crisis, their failure to act must now be met with real consequences.

Imran Ahmed
Chief Executive Officer
Center for Countering Digital Hate