Horizon Worlds Exposed
Bullying, Sexual Harassment of Minors and Harmful Content are Rife in Meta's Flagship VR Product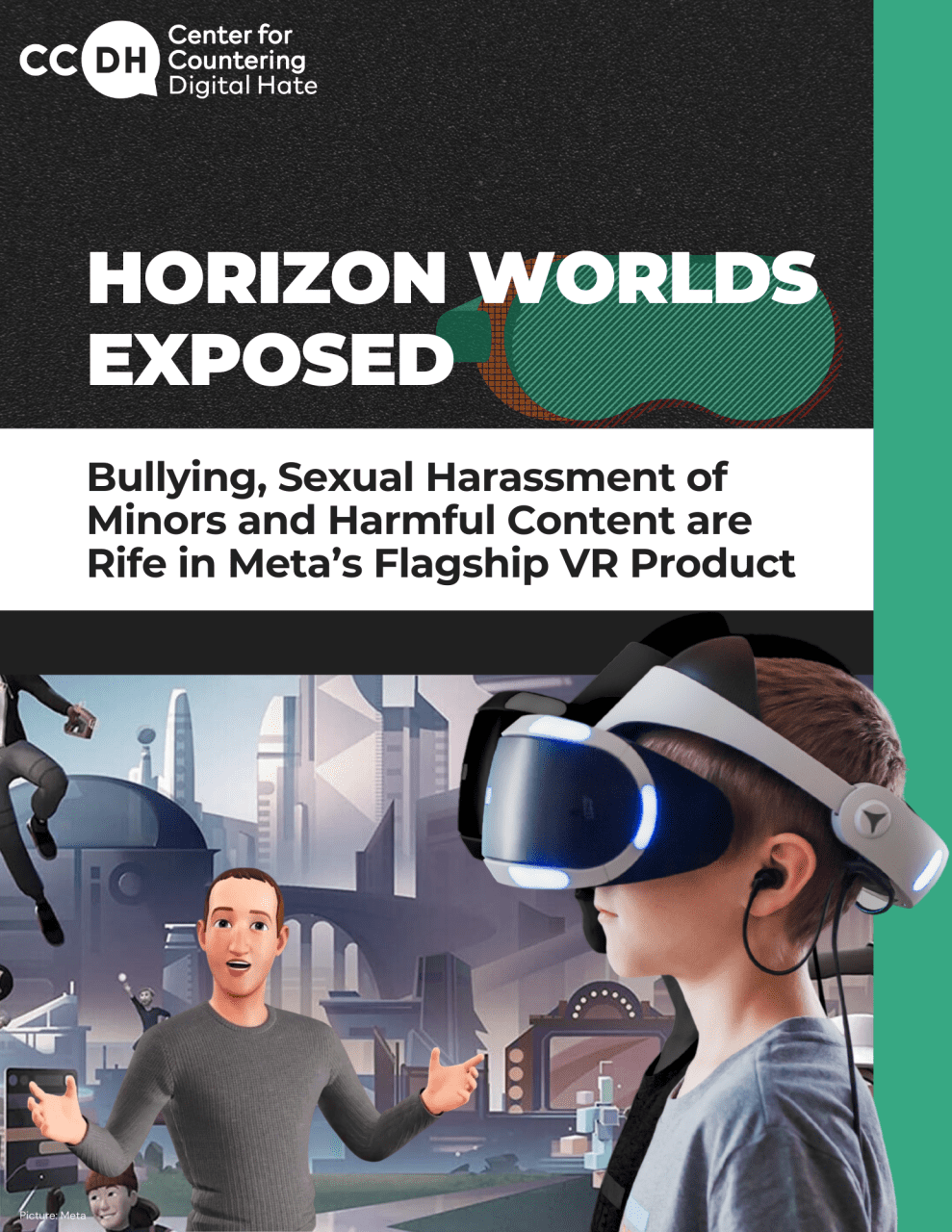 Minors are being routinely harassed and exposed to adult content on Meta's flagship virtual reality social network, Horizon Worlds, new CCDH research has found.
About
Meta fails to protect minors from explicit content and harassment in its flagship VR app
New research by the Center for Countering Digital Hate exposes Horizon Worlds' failure to protect minors. Young people are being routinely harassed and exposed to adult content on Meta's flagship virtual reality social network, Horizon Worlds.
Introduction
The research follows Meta's announcement that Horizon Worlds will be opening up to 13-17-year-olds as soon as March, showing that Meta is already failing to prevent minors from accessing mature content despite a supposed ban on minors accessing its VR apps.
Researchers logged into Horizon Worlds 100 times, recording footage from each visit. Horizon Worlds is the flagship social app in Meta's family of 'metaverse' VR products, and is currently supposed to be limited to users aged 18 and up.
Analysis of recordings showed that minors already routinely use the platform, with minors present in 66 of the 100 recordings collected. Within these recordings, researchers identified 19 incidents of abuse directed at minors by adults, including sexually explicit insults and racial, misogynistic and homophobic harassment.
Minors were also spotted in multiple 'Mature Worlds' where Meta permits sexually explicit content, legal drugs and gambling. Mature Worlds must be marked as 18+, but there are no further safety measures and they are easily accessible from the main menu or in-world 'portals'.
Sexually explicit insults were not uncommon, with researchers encountering four incidents of adults harassing minors in this way. One adult repeatedly shouted at a group of young girls "I don't want to cum on you", continuing even after the girls said they were minors.
Minors also faced harassment based on race, sexuality and gender with six incidents recorded. In a virtual courtroom a young girl with a black avatar was told "you're black, you're sentenced to death" by an adult player.
Researchers entered Mature Worlds 19 times and found minors present on five occasions. One minor was found inside a virtual strip club named The Rabbits Den serving alcoholic drinks for in-app money. In a separate incident, a portal to Chicago Penthouse, a strip club, was opened in front of a minor, creating direct access to the Mature World.
Researchers collected this data by entering Horizon Worlds and filming 100 visits to the most popular worlds. Worlds were selected from the Top 100 menu, which ranks worlds by popularity. Researchers explored the worlds fully, spending a maximum of five minutes inside.
Recordings were then analyzed to identify underaged users and incidents of abuse. Horizon Worlds does not provide information on the declared ages of users. So users were considered to be minors if they stated that they were under 18 or if two researchers agreed that the voice of the user sounded under 15 years old.
Download the report and learn more.