Public Support for Social Media Reform
Assessing CCDH's STAR Framework for social media regulation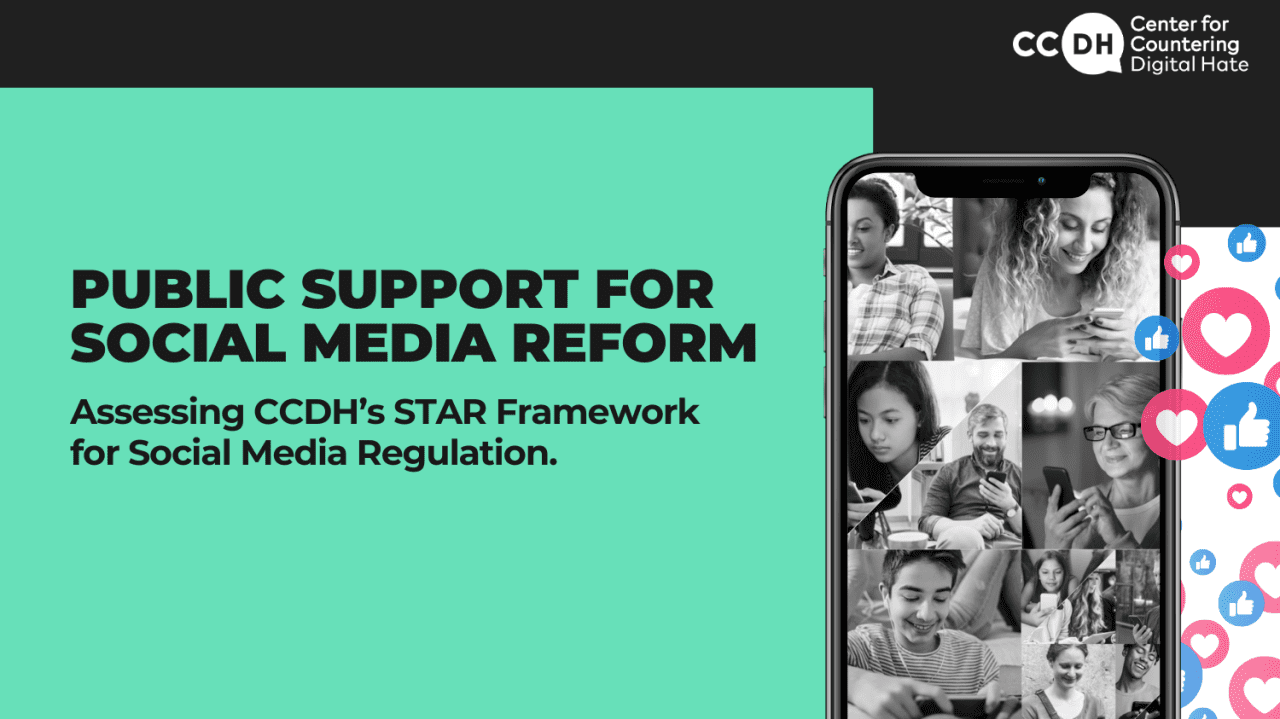 CCDH's new report shows that the majority of people in the US are tired of being exploited by social media companies and want governments and platforms to address online hate and disinformation. Most of the people polled agreed with the four principles of our STAR Framework for social media regulation: Safety by Design, Transparency, Accountability and Responsibility.
About
An intro from CCDH CEO Imran Ahmed
Our online world is dominated by a tiny coterie of powerful companies. They preside over and profit lavishly from a broken, unregulated system that exploits citizens, their users. They exploit them for data on their private thoughts, relationships and lives, as well as their attention – through algorithms designed to addict people to newsfeeds peppered with paid advertisements. These companies, owned and run by a handful of unaccountable billionaires, dictate how over 4.5 billion people around the world share information, form new relationships, establish shared norms, create communities and transact business.
And yet there exists no global standard to hold these vastly powerful entities to account for their hugely consequential decisions and the way they build their products, despite considerable evidence that social media can have powerful negative effects on our psychological wellbeing, our families, our communities, on science, tolerance, and the integrity and viability of democracy itself.
In May 2022, at the Center for Countering Digital Hate's Global Summit on Online Harms in Washington DC, we convened lawmakers from the United States, European Union, United Kingdom, Canada, Australia and New Zealand.
The result was the STAR Framework for legislative reform of the social media industry, which is built around four fundamental principles: Safety by Design, Transparency, Accountability, and Responsibility.
This report builds on that work, and is based on polling of over 1,000 adults and over 1,000 participants aged 13-17 in the United States. Our poll sought to investigate general attitudes towards online spaces. What we found was surprising and deeply troubling.
Conspiracy theories have real traction among American teenagers, particularly those who use any single social media platform for four or more hours per day. This is a crisis of conspiracism that is infecting our children with potentially dangerous lies and nonsense.
Although the findings of this report paint a worrying picture, it is one that ultimately I find to be hopeful. Our polling shows there is strong support for all the principles of the STAR Framework, and we conclude by laying out next steps for CCDH and recommendations for the industry and legislators working in this area, as well as concerned members of the public.
Together, we can build a better online world.