TikTok's Toxic Trade
How TikTok promotes dangerous and potentially illegal steroid-like drugs to teens.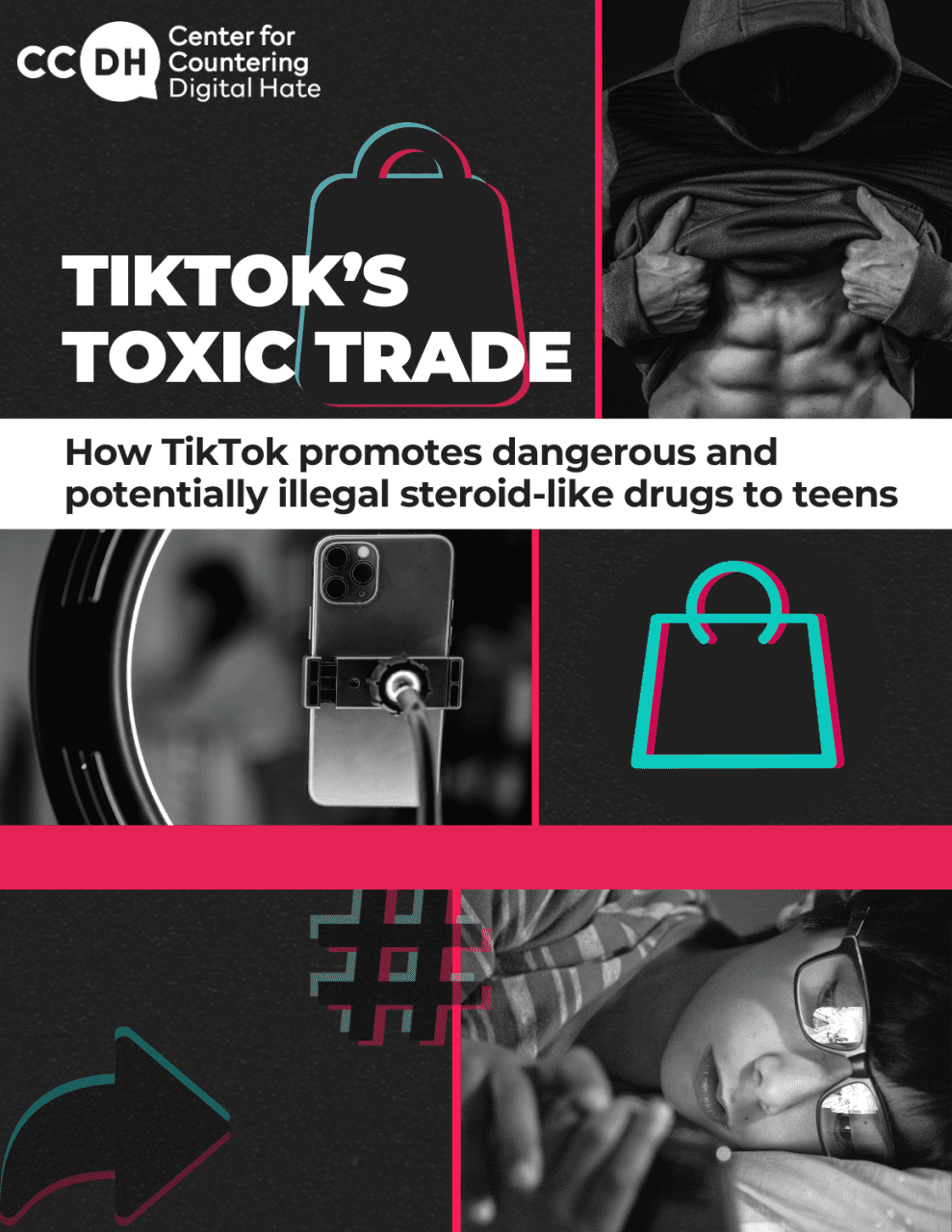 New research shows that TikTok videos glorifying potentially deadly bodybuilding drugs and in some cases directing users to sites selling them have been seen at least 587 million times in the US in three years – including 420 million views from users aged 18-24 years old.

TikTok must enforce their own rules and protect vulnerable users from harmful content. And Congress must hold the platform responsible and accountable if failing to do so.
About
Digital communities are now the places where many young people form their sense of self – where they learn and exchange norms, trends, and information that can shape their identities as they grow up.
It's well documented that two thirds of American teens use TikTok – 1 in 6 say they watch it "almost constantly". It is thought children and teenagers spend an average of 90 minutes per day on the app – the equivalent of watching an intense, highly personalized movie.
Last year, CCDH showed that girls as young as 13 were being bombarded with TikTok videos promoting self-harm, eating disorders and destructive norms about body image. But young women and girls aren't the only group of young people who are being exposed to potentially damaging and dangerous content online.
A growing – and chronically understudied – crisis is being fomented among young boys and men, wrapped in toxic ideas of masculinity, strength, and misogyny, and amplified by unaccountable algorithms.
Several young men in the bodybuilding community have already lost their lives in incidents that have been linked to abuse of SLDs and extreme training methods. Each tragic death leaves behind a trail of devastated families and loved ones. It will continue to poison a generation of young boys who seek to reach a toxically unattainable physique, powered by potentially illegal substances marketed online.
This report details how steroid-like drugs (SLDs) are promoted in TikTok videos which have gained up to 587 million views in the US alone, primarily from those under the age of 24. According to estimates, this represents 13 views for every 18-24 year old in the country.
While TikTok's community guidelines prohibit the promotion and sale of SLDs, CCDH research shows that influencers who promote websites selling these potentially illegal drugs have amassed 1.8 million followers. 'TikTok is likely to be instrumental to the promotion of SLDs, as we estimate that websites selling SLDs reach 540 times as many followers through TikTok influencers.
This report examines three classes of steroid-like drugs (SLDs): anabolic-androgenic steroids (AAS), peptides and Selective Androgen Receptor Modulators (SARMs). All carry significant health risks, with AAS and SARMs carrying the most significant, such as hypertension and heart attacks. Under US law, AAS are illegal for sale without prescription, while peptides and SARMs are illegal to sell as unapproved drugs for human consumption.
TikTok videos identified by CCDH appear to encourage teenagers to begin using these potentially illegal drugs in their teen years and "just tell your parents they're [SLDs] vitamins".
Some videos display large amounts of steroids with the caption "Risk it".
We tracked down 13 websites that each attempt to skirt the law by referring to these drugs as "research chemicals" and warning that they are "not for human consumption" – despite promoting the drugs with videos featuring muscular physiques. As with many forms of online commerce, the websites selling these products don't market directly to children. They've cottoned on to the fact that it's far more effective to pay bodybuilding 'influencers' to promote their products for them – even if it means offering commissions of up to 30%.
Increasingly, a chasm has opened between parents and their children about the content young people are exposed to online. Studies have shown that many young people have trouble distinguishing influencer marketing, affiliate schemes, and, on a fundamental level, how algorithms are impacting their understanding of themselves and the world.
Ultimately, this is a story of TikTok's stark failure to govern their own platform and enforce their rules. Urgent action is needed. TikTok must start enforcing its own rules prohibiting the promotion and sale of potentially dangerous drugs for profit – and it needs to be much more transparent about how many children and teenagers are routinely exposed to this content through the platform's algorithms.
A good start would be for them to donate all of the advertising revenues they have garnered through this ugly trade to charities that provide on-the-ground support for young men suffering with body image and substance abuse issues.
Our legislators, who have sat on their hands for so long, also need to update the legal framework for social media companies in the US, which hasn't been changed substantially since 1996. Our STAR Framework provides a solid foundation for the reform parents, young men and, frankly, all of us desperately need and want.
Imran Ahmed
CEO, Center for Countering Digital Hate