Cloudflare: stop enabling extremist incel sites
CCDH has sent a letter to Cloudflare CEO Matthew Prince demanding to take action on incel sites supported by Cloudflare's technology. Our letter has been signed by twelve more organizations who are concerned about the extremist content hosted on those incel sites.
Signatories include: Center for Countering Digital Hate, Friends of the Earth, GLAAD, Glitch, Maura's Voice, National Society for the Prevention of Cruelty to Children (NSPCC), ProgressNow NM, Reclaim These Streets, Reproaction, Stop Online Violence Against Women Inc., Ultraviolet, 5Rights Foundation, and #ShePersisted.
Cloudflare has in the past supported websites that incited violence to the extent that a woman was killed in Charlottesville. Many of these sites promote violence against women. Cloudflare should stop hosting these sites to avoid further online violence and harassment.

Stop Online Violence Against Women Inc.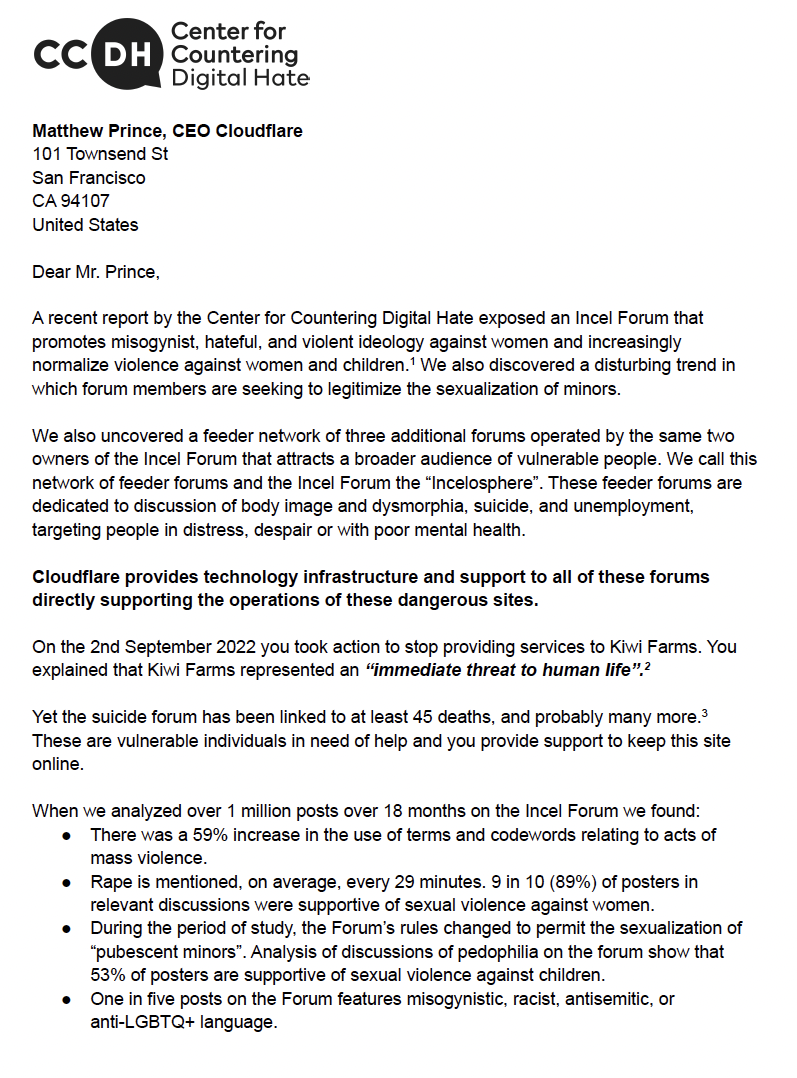 A few weeks ago, CCDH exposed the largest Incel Forum that promotes misogynist, hateful, and violent ideology against women and increasingly normalizes violence against women and children.
We also uncovered a feeder network of three additional forums operated by the same two owners of the Incel Forum that attracts a broader audience of vulnerable people to discussions of body image and dysmorphia, suicide, and unemployment.
By providing technology infrastructure, Cloudflare is a key enabler of these dangerous sites.
For the owners and operators of Cloudflare, I encourage you to think about your wives, daughters, aunts and sisters when you provide the technical tools to allow discussions of rape and sexual violence against women and girls to thrive. Your loved ones will not be protected in a world where young men are radicalized online – subsidized by your dangerous and immoral business practices.

#ShePersisted
Cloudflare CEO Matthew Prince must take action and stop enabling extremist incel sites – just as they did when they stopped providing services to Kiwi Farms.