Twitter stands to make up to $19m a year from ads on just ten toxic reinstated accounts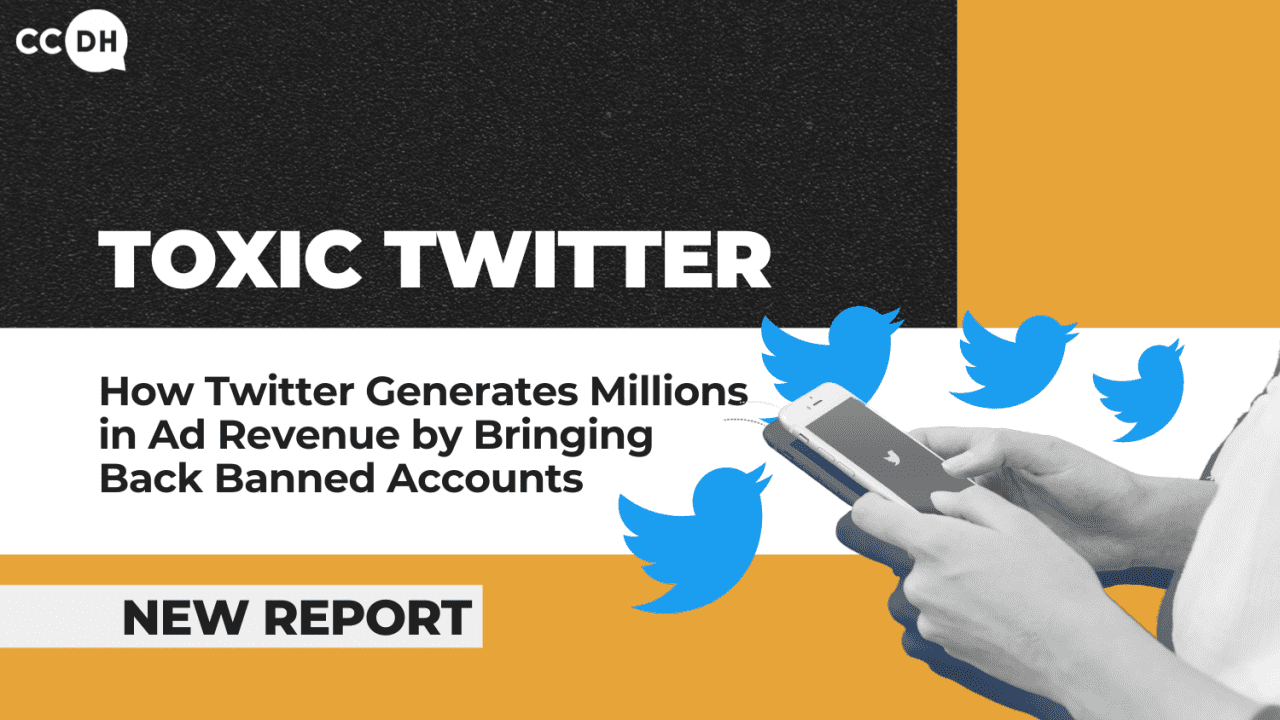 New research by the Center for Countering Digital Hate (CCDH) has discovered that previously banned Twitter accounts are set to generate millions of dollars in advertising revenue for the platform.
CCDH researchers tracked the Twitter activity of 10 high-profile reinstated accounts, including self-confessed misogynist Andrew Tate and prominent neo-Nazi Andrew Anglin over a 47-day period. The full list is:
Andrew Tate, the influencer and former kickboxer known for posting extreme misogynistic videos.
Robert Malone, a doctor who has built up a following by pushing falsehoods about Covid vaccines, while also claiming to have played a key role in their development.
Andrew Anglin, an American neo-Nazi who founded the Daily Stormer website, which takes its name from the Nazi propaganda sheet known as Der Stürmer.
Gateway Pundit, an online media outlet notorious for its promotion of disinformation, including claims around vote tampering, climate denial and Covid misinformation.
Emerald Robinson, the former Newsmax reporter who was sacked and suspended from Twitter in 2021 for claiming that the Covid vaccine contains a satanic marker.
Rogan O'Handley, a former Hollywood entertainment lawyer turned far-right conspiracy theorist.
Peter McCullough, a doctor known for pushing misinformation about Covid.
Stew Peters, a former bounty hunter who produced the film 'Died Suddenly', which promotes false claims about Covid vaccines.
Ronnie Steven Islam, known as "Rizza" Islam, is an influencer who regularly posts antisemitic, anti-LGBTQ+ and anti-vaccine rhetoric. He was named in CCDH's "Disinformation Dozen", listing twelve of the most influential online anti-vaxxers.
Anthime Gionet, known as Baked Alaska, is a white supremacist influencer who attended the 2017 "Unite the Right" rally and has been sentenced for his role in the Capitol insurrection.
CCDH calculated the revenue generated by these 10 'influencers' using predictions of yearly tweet impressions, the frequency of ads on Twitter, and cost of Twitter ads. With these elements, researchers were able to estimate how many ads would appear across the influencer's tweets in a year, what the cost to advertisers would be and the revenue Twitter would generate from this.
The 10 reinstated accounts generated 2.5 billion tweet impressions over the study. These accounts are on track to generate 20 billion impressions over the course of a full year.
Experiments carried out by CCDH indicate that an ad appears at an average rate of once every 6.7 tweets.
Brandwatch estimates that Twitter ads cost an average of $6.46 per 1,000 impressions.
Pulling these elements together results in a total figure of up to $19 million in estimated annual ad revenues from the views generated by these accounts.
Since Musk announced his amnesty for banned accounts in November, thousands of previously banned accounts have been restored to the platform.
Due to brand safety concerns, hundreds of global brands have paused or stopped their Twitter advertising completely since Musk took over, fearing that the platform would become a "hellscape" haven for hate speech and misinformation.
The CCDH study also uncovered that ads for global brands that chose not to pause their Twitter ad-spend such as Amazon, Apple, the NFL and Comcast, are now appearing alongside hate and misinformation from the reinstated accounts.
The following example shows that a Prime Video ad appeared next to a tweet by the neo-Nazi Andrew Anglin in which he claims that the "only career that a woman is actually capable of on merit is prostitution".
Commenting on the findings Imran Ahmed CEO of CCDH stated:
"Our research shows that there is a depressingly banal answer to why Elon Musk would reinstate the accounts of self-professed Nazis, disinformation actors, misogynists and homophobes – it's highly profitable.
"Just 10 of these reinstated bad actors will generate billions of Twitter views, which Elon Musk sells to household brands and advertisers, such as Apple, Amazon, and the NFL. We are calling on the world's leading brands to show leadership, to stop their Twitter advertising immediately, and stop directly funding hate and misinformation."
CCDH is a member of the Stop Toxic Twitter coalition, a group of 60+ civil rights and civil society groups calling on Twitter advertisers to demand a safer Twitter for their brands and for users. You can read the coalition's response to our latest research here.