Digital Hate
Social Media's Role in Amplifying Dangerous Lies About LGBTQ+ People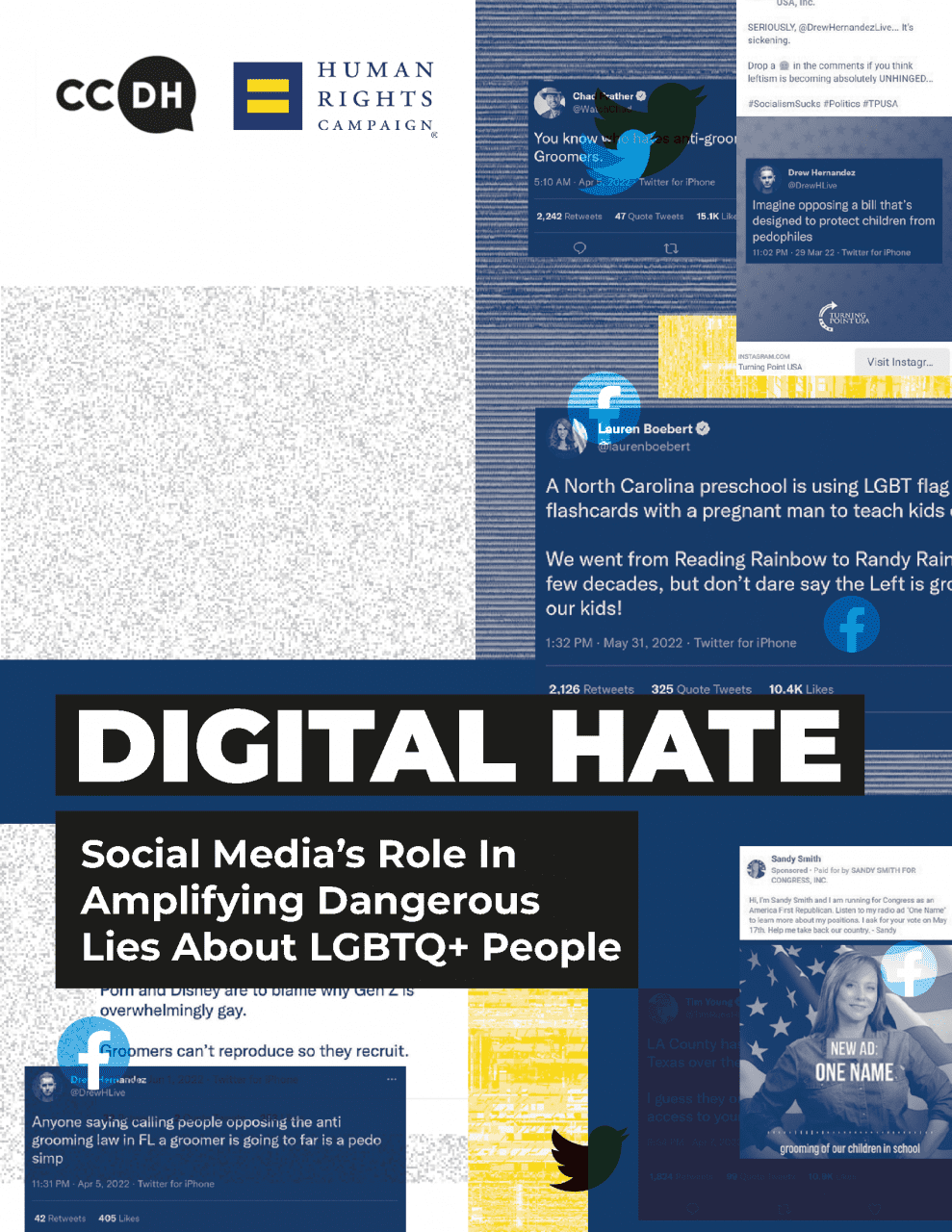 Twitter and Facebook are enabling digital hate against LGBTQ+ communities. A new report by CCDH and the Human Rights Campaign shows both platforms are failing to enforce Community Standards amid a spike in online Anti-LGBTQ+ hate triggered by Florida's 'Don't Say Gay or Trans' Bill.

About
CCDH researchers analyzed discourse and hateful rhetoric targeting LGBTQ+ people on Twitter and Facebook, finding an alarming and intense increase in recent months. This wave of hate has centered around the false and baseless lie that LGBTQ+ people 'groom' children. This, we know, has driven offline hate crimes.
We identified 989,547 tweets posted between January 1st and July 27th that mention the LGBTQ+ community alongside slurs such as "groomer", "predator" and "pedophile". An audit found that Twitter failed to act on 99% of the 100 hateful tweets reported to them anonymously by CCDH researchers.
Meta (Facebook) is profiting from ads promoting rhetoric that the LGBTQ+ community and its allies are 'grooming' children. CCDH identified at least 59 ads promoting this rhetoric – which have been served to users over 2.1 million times.
Online hate and lies reflect and reinforce offline violence and hate. Twitter and Meta (Facebook) must take action on anti-LGBTQ+ hate and stop hosting and profiting from these hateful slurs.
Introduction
We are in the throes of a growing wave of violence, hate and demonization targeting LGBTQ+ people in the United States and around the world. Opportunistic, malignant people often seek to demonize others who are not like them.
Online hate and lies reflect and reinforce offline violence and hate. It is a reflexive process, in which the frequency with which hate appears in our feeds normalizes untrue narratives, infecting millions of users – often misinformed audiences – who are also targeted by extremist politicians seeking power. They treat their highly visible misbeliefs as though they are a legitimate evidence base for hateful, demonizing policies. Digital populism becomes digital demonization.
Online spaces such as social media may have rules against hate and lies, but they are poorly enforced. These platforms have enormous reach and are cheap and easy to use, allowing fringe ideologies to burst into the mainstream through concerted activity, buoyed by social media algorithmic amplification, benefiting hateful, surprising and misleading narratives that generate engagement over tolerance and truth.
This new study, carried out by the Center for Countering Digital Hate in partnership with the Human Rights Campaign, analyzes how social media posts have created a cascade of online hate, underpinned by dangerous misinformation and outright lies against the LGBTQ+ community.
The Anti-LGBTQ+ hate rhetoric found on Twitter by CCDH researchers has been alarmingly increasing in recent months. This wave of hate and lies claiming LGBTQ+ people 'groom' children has driven offline hate crimes. A drag queen in the Bay Area was attacked by the Proud Boys this June, with the far-right extremists using the same hateful slurs identified in this report. This abuse, like the attempted white supremacist attack on a Pride parade in Idaho and incidents involving Neo-Nazis in Florida, did not happen in isolation: extremist rhetoric and attacks against LGBTQ+ people have ramped up online and offline in recent months.
Through an over-time analysis, which quantifies tweets containing slurs like 'groomers' or 'pedophiles' in the context of conversations about LGBTQ+ people between January and July of 2022, CCDH researchers found that the volume of tweets engaging in 'grooming' discourse increased by 406% in the month following the passage of the 'Don't Say Gay or Trans' bill in Florida. Further, we estimate that the 500 most-viewed tweets that advance the false 'grooming' narrative were viewed at least 72 million times. Given that these slurs clearly violate Twitter's 'Hateful Conduct' policy, which prohibits attacks or threats against people based on their sexual orientation, gender, or gender identity, it is appalling that Twitter failed to act on 99% of the 100 most-viewed hateful tweets identified in this report when our researchers anonymously reported them using the platform's reporting tools.
Twitter is not the only platform responsible for the promotion of this hateful rhetoric. On Facebook, researchers identified 59 ads that promote the 'grooming' narrative, which were viewed over 2.1 million times. The ads were purchased and ran between March and August 2022 during the height of Florida's 'Don't Say Gay or Trans' bill controversy and often focused on Disney's opposition to the bill, with language that claims opponents of 'Don't Say Gay or Trans' are protecting pedophiles or that teaching about LGBTQ+ issues in schools amounts to 'radical sexual grooming'. Having spoken out against the bill, Disney became a target in this narrative and was the subject of over half of the Facebook ads in this study. The company has also been targeted on Twitter, where 345,152 tweets mentioning Disney appear alongside slurs like 'predator', 'pedophilia', and 'grooming'.
Hate, violent extremism, and conspiracies online have an impact offline. The amplification of anti-LGBTQ+ hate, which seeks to dehumanize and stoke fear and violence towards LGBTQ+ people, happens by design. Both Facebook and Twitter are known to algorithmically amplify hate and fail to act on abuse, inauthentic behavior, and content that violates their policies.
After decades of hard-won progress, the recent surge in violence and anti-LGBTQ+ hate serve as a reminder of how fragile that progress might be, and that there remain determined and capable opponents.
We are calling on Twitter and Meta to act on anti-LGBTQ+ hate and to stop hosting these harmful slurs. Social media companies that celebrate Pride Month while profiting from dangerous hatred against LGBTQ+ people should put their money where their mouth is.
We also identify key ways in which the current perverse incentives structures of US social media regulation – which shield companies from liability – could be reformed, and advocate for greater transparency of these important, but potentially harmful, environments.

Imran Ahmed
CEO, Center for Countering Digital Hate