Toxic Twitter
How Twitter Makes Millions from Anti-LGBTQ+ Rhetoric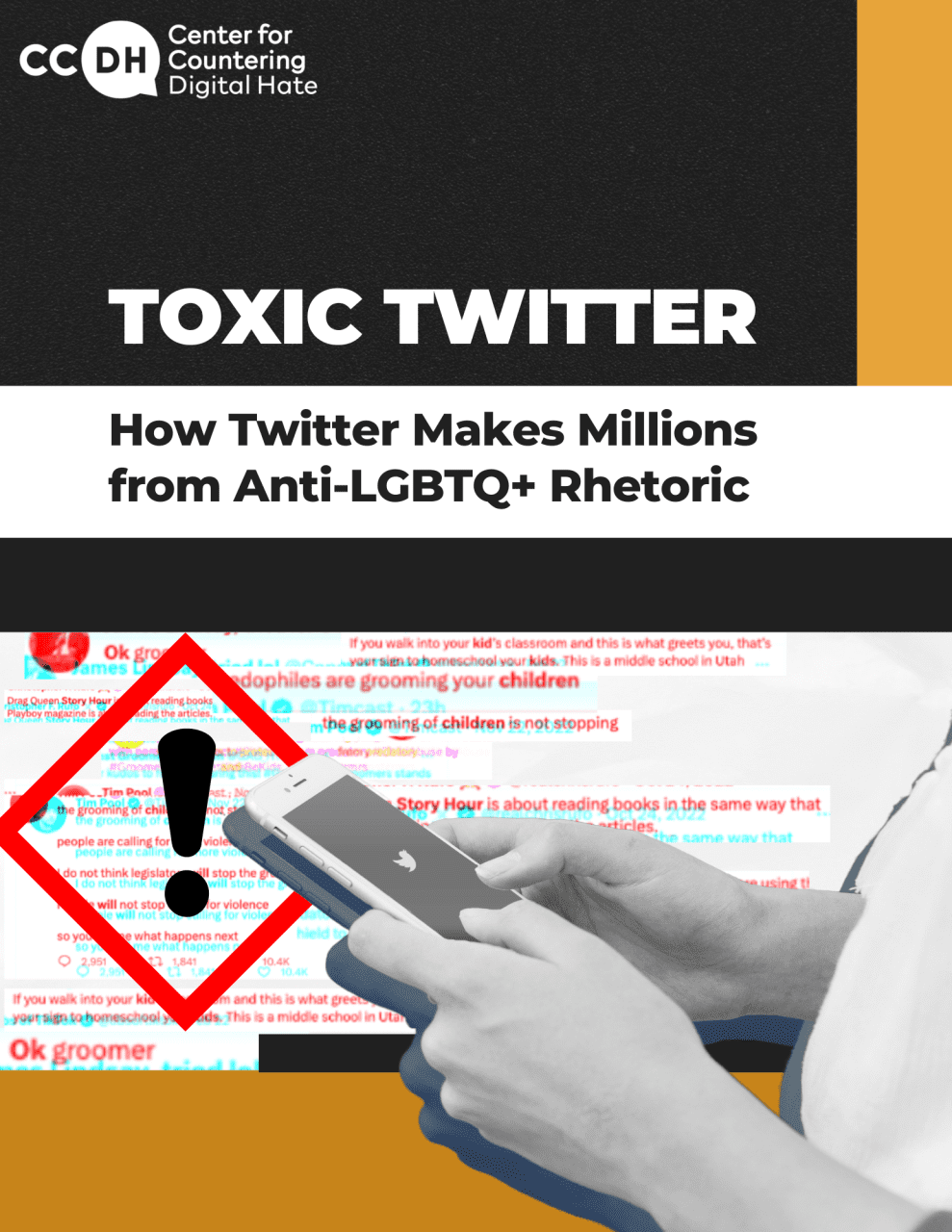 Twitter is making millions of dollars as anti-LGBTQ+ 'grooming' rhetoric jumps 119% under Elon Musk.
About
Over the past year, the LGBTQ+ community has become the target of a wave of abuse centered around the false and hateful lie that they 'groom' children.
The hateful 'grooming' narrative has jumped 119% under Musk
The volume of this narrative on Twitter has only grown under Elon Musk, with tweets and retweets mentioning the LGBTQ+ community alongside 'grooming' slurs jumping 119% since his takeover of the platform on 27 October 2022.
Often targeting educators, pride events, or drag story hour events, the 'grooming' narrative demonizes the LGBTQ+ community with hateful tropes, using slurs like "groomer" and "pedophile".
The Center for Countering Digital Hate has identified over 1.7 million tweets and retweets since the start of 2022 that mention the LGBTQ+ community via a keyword such as "LGBT", "gay", "homosexual" or "trans" alongside slurs including "groomer", "predator" and "pedophile".
"This isn't an accident. Elon Musk put up the 'Bat Signal' to homophobes, transphobes, racists and all manner of disinformation actors, encouraging them to flood onto Twitter. Not only has Musk's ownership of the platform coincided with an explosion of the hateful 'grooming' narrative, but Twitter is monetising hate at an unprecedented rate."

Imran Ahmed, CEO, Center for Countering Digital Hate
Since Musk's takeover, tweets containing the 'grooming' narrative have spiked several times. In particular, they spiked around tragic events like the Colorado Springs shooting.
Just five Twitter accounts driving the 'grooming' narrative generate up to $6.4m for Twitter's ad revenue
The hateful 'grooming' narrative online is driven by a small number of influential accounts with large followings. Now new estimates from the Center show that just five of these accounts are set to generate up to $6.4 million per year for Twitter in ad revenues.
These five accounts promote online hate that has been reported to have real-world violence, like harassment and threats, including some bomb threats.
"We are experiencing a surge of anti-LGBTQ+ attacks as extremists continue to traffic in dangerous disinformation about our community. Digital platforms, like Twitter, are failing to protect our community from dangerous rhetoric that no longer hides behind the anonymity of a computer screen but has manifested into threats of violence in real life."

Jay Brown, Senior Vice President, Programs, Research & Training, Human Rights Campaign (HRC)
These estimates shed fresh light on the extent to which Twitter is benefiting financially from not only hosting but also actively monetizing toxic accounts that spread harmful tropes demonizing the LGBTQ+ community.