New research shows Metaverse is not safe for kids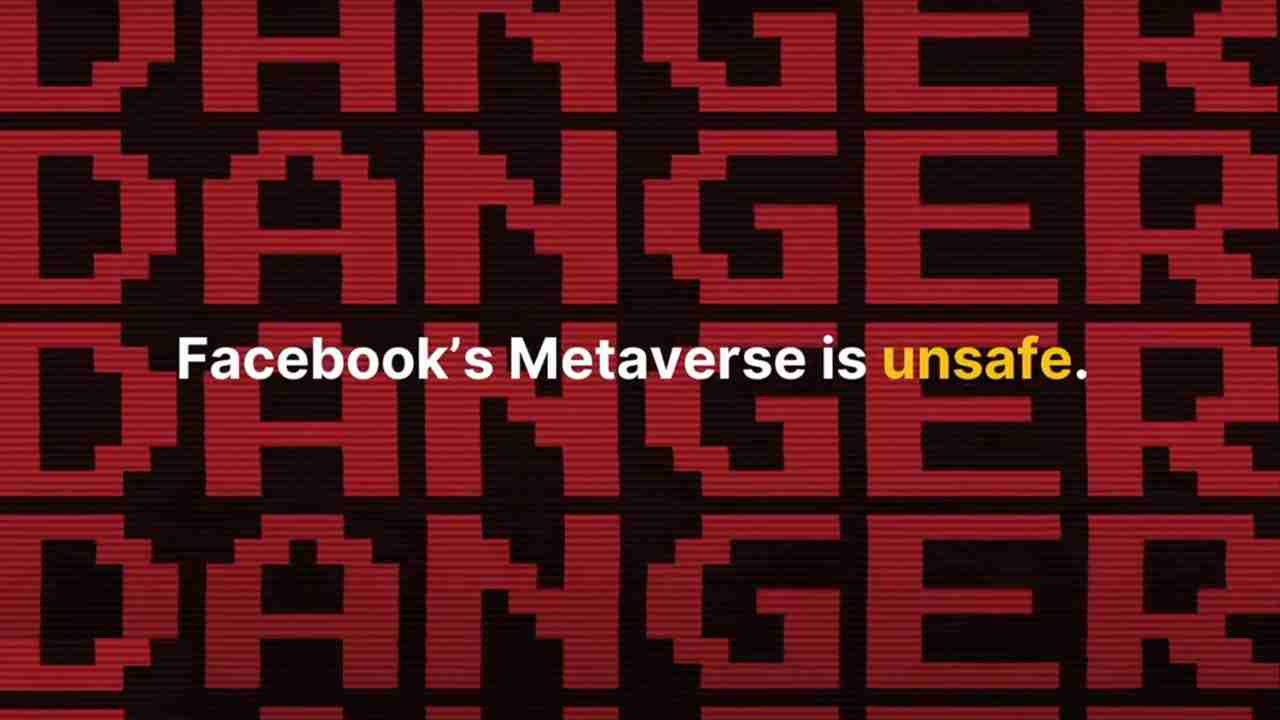 Research conducted by the Center for Countering Digital Hate (CCDH) shows that VR Chat—the most reviewed social app in Facebook's VR Metaverse—is rife with abuse, harassment, racism and pornographic content.
CCDH researchers found that users, including minors, are exposed to abusive behavior every seven minutes. Facebook/Meta was unresponsive to all reports of abusive content. Abusive behavior exposed, recorded, and reported by CCDH researchers included:
Minors being exposed to graphic sexual content.
Bullying, sexual harassment and abuse of other users, including minors.
Minors being groomed to repeat racist slurs and extremist talking points.
Threats of violence and content mocking the 9/11 terror attacks.
Researchers identified 100 potential violations of Facebook's policies for VR in 11 hours and 30 minutes of recordings of user behavior in the app.
Of those 100 potential violations, only 51 met Facebook's criteria for reporting offending content, as the platform rejects reports if it cannot match them to a username in its database. Facebook did not issue any response to any of these 51 reports of abusive behavior, including sexual harassment and grooming of minors.
Imran Ahmed, Chief Executive of the Center for Countering Digital Hate, said:
"When Facebook launched the Metaverse for Oculus just in time for Christmas shopping, its CEO, Mark Zuckerberg, pledged that privacy and safety is at the heart of Virtual Reality.
"But our researchers discovered that, contrary to his promises, Metaverse is a haven for hate, pornography and child grooming.
"In our study, Metaverse connects users not just to each other but to an array of predators, exposing them to potentially harmful content every seven minutes on average. If Metaverse is safe for predators, it's unsafe for users, especially children.
"Any parent who gifted Facebook's VR Oculus headset for Christmas needs to be aware that they are potentially exposing their children to serious danger."
~ENDS~
Notes to Editors
1. The Center for Countering Digital Hate (CCDH) is a UK/US non-profit that disrupts the spread of identity-based hate and misinformation in online spaces.
2. Facebook's existing Oculus app store lists VR Chat in the first six results in its "Social Networks" category. The Oculus app store does not display the number of times an app has been downloaded, but VRChat is one of the most reviewed apps in this category.
3. Meta's VR policies prohibit a range of bullying, abuse and harassment. They specifically prohibit "sexualising minors in any way" and "supporting or representing hateful ideologies or groups."
"Conduct in VR Policy", Meta Quest, retrieved 2 December 2021, https://support.oculus.com/articles/accounts/privacy-information-and-settings/conduct-in-vr-policy
Meta also briefly mentions that people can be reported if they are not "following the Community Standards", linking to Facebook's existing community standards.
"If you notice someone isn't following the Community Standards or Conduct in VR Policy you can report them from your device or by completing a form on the Oculus website."
"Report someone on Oculus", Meta Quest, retrieved 3 December 2021, https://support.oculus.com/articles/accounts/privacy-information-and-settings/report-someone-on-oculus/?locale=en_GB
Meta says it can suspend or permanently disable accounts. It also says it can "temporarily restrict" them. Presumably this could mean losing access to social features, in a similar way to how you can be banned from Steam's community while maintaining access to your games library.
"If we find that you have violated the Community Standards or this Conduct in VR Policy across Facebook or Oculus products, we may take action on your account, including temporarily restricting or suspending your account. For repeated or egregious offenses, we may permanently disable your account."
"Conduct in VR Policy", Meta Quest, retrieved 2 December 2021, https://support.oculus.com/articles/accounts/privacy-information-and-settings/conduct-in-vr-policy
4. "The Metaverse and How We'll Build It Together – Connect 2021", Meta, YouTube, 28 October 2021, included this exchange between Vice President of Global Affairs Nick Clegg and CEO Mark Zuckerberg:
Nick Clegg: "I just love the presentation so far, it's such visionary stuff. But as you mentioned early on, with all big technological advances, there are inevitably gonna be all sorts of challenges and uncertainties, and I know you've talked about this a bit already, but people want to know how we're gonna do all this in a responsible way, and especially that we play our part in helping to keep people safe and protect their privacy online."
Mark Zuckerberg: "Yeah that's right. This is incredibly important"
Nick Clegg: "The way I look at it is that, in the past, the speed that new technologies emerged sometimes left policymakers and regulators playing catch up. So on the one hand, companies get accused of charging ahead too quickly. And on the other, tech people feel that progress can't afford to wait for the slower pace of regulation. And I really think that it doesn't have to be the case this time round. Because we have years until the Metaverse we envision is fully realised. So, this is the start of the journey, not the end."
Mark Zuckerberg: "Like I said earlier, Interoperability, open standards, privacy and safety need to be built into the Metaverse from day one. And with all the novel technologies that are being developed, everyone who's building the metaverse should be focused on building responsibly from the beginning. This is one of the lessons that I've internalized from the last five years. It's that you really want to emphasise these principles from the start. So at Connect last year, Boz outlined our Responsible innovation principles, and the first one was, 'Never surprise people.'"
5. Meta profits from sales of VRChat's in-app purchases and subscriptions processed via the Oculus Store, with Oculus purported to take a 30% of store revenue.
6. Christmas shoppers that purchase an Oculus Quest 2 directly from Meta can return the headset within 60 days. "Refunds and Returns", Meta Quest. https://support.oculus.com/articles/orders-and-purchases/returns/index-returns/?locale=en_GB