Google made $10 million from deceptive advertising campaigns for anti-choice 'fake clinics', new report finds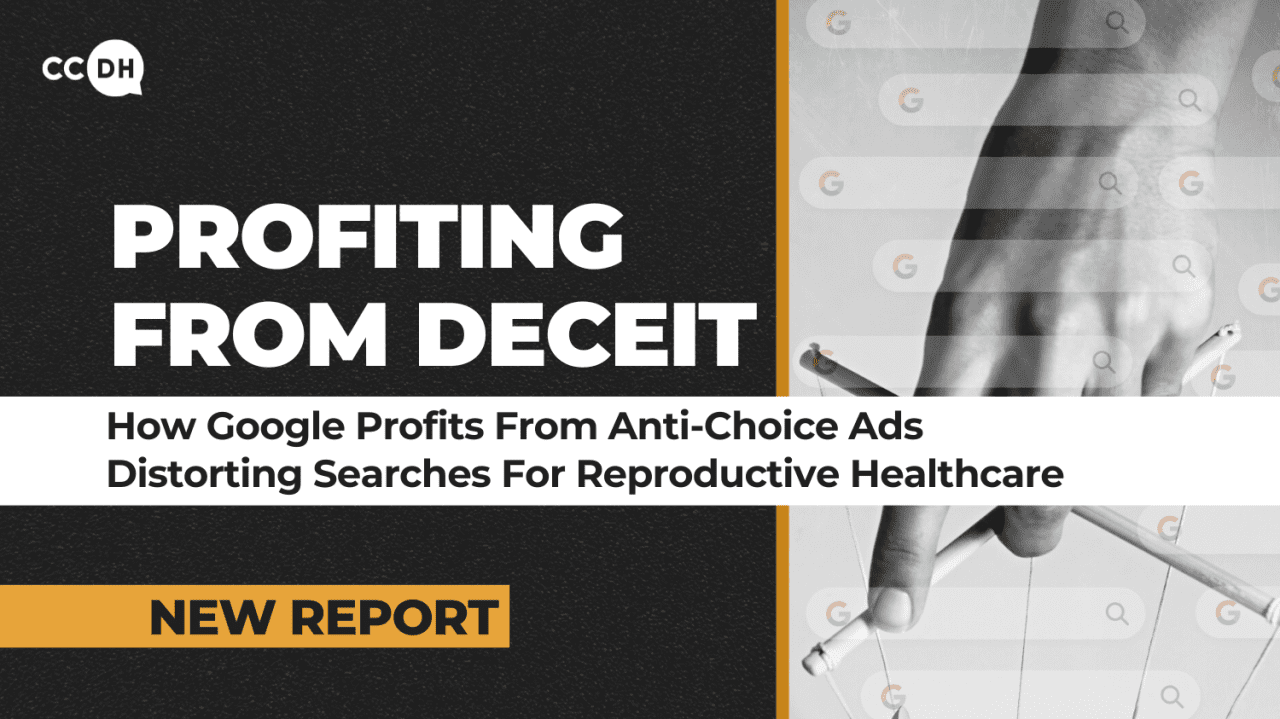 Google is helping anti-choice organizations to deceive hundreds of thousands of people seeking reproductive healthcare by promoting – and even subsidizing – misleading Google Search ads for "fake clinics", a new report has found.
Fake reproductive health clinics – sometimes called Crisis Pregnancy Centers – appear to offer independent advice on reproductive healthcare but are actually run by ideological anti-choice organizations who try to shame those seeking abortions and employ scare tactics based on medical misinformation.
Today, such facilities play a central role in the anti-choice movement. There are an estimated 2,600 operating across the country, meaning they now outnumber genuine clinics by a factor of three to one.
A new report by the CCDH, Profiting from Deceit, finds that:
Fake clinics have spent a combined $10.2 million on Google Search ads over the last two years, according to the enterprise analytics tool Semrush.
The anti-choice movement spends four times as much on Google Search ads for fake clinics than it did on Google Search ads for overt campaigns to restrict abortion care. Fake clinics in states where abortion is legal spent twice as much as those with bans.

Fake clinics target more than 15,000 different queries related to abortion, including "abortion clinic near me", "abortion pill", "abortion clinic", and "planned parenthood".
71% of fake clinic websites advertised on Google Search use deceptive techniques to target people seeking reproductive care.
16% promoted misleading claims about abortion – for example, exaggerating the risks to mental health, overstating the risk of complications to future pregnancies such as fertility loss, or claiming that abortion can increase the risk of breast cancer.
38% fail to carry homepage disclaimers clearly stating that they do not provide abortions.

40% promote so-called abortion pill "reversal" (APR) – an unproven and potentially unsafe method for reversing a medical abortion.

Despite pledging to ban advertisements of abortion "reversal" following CCDH's September 2021 report Endangering Women for Profit, Google has since taken $2.6 million in Search ad revenue from fake clinic websites that promote the procedure.

In some cases, Google is subsidizing fake clinics to place ads. This report shows that at least one anti-choice marketing firm helps fake clinics access Google's Ad Grant scheme, which offers non-profit organizations up to $10,000 per month in free ad credits.
Ads placed on Google Search appear at the top of the first results page, deliberately resembling organic search results. Studies have shown that users have a high degree of trust in search engine results – particularly top-ranked results.
Studies have also shown that up to 68% of users are unable to distinguish ads from organic search results.
The anti-choice lobby has invested so heavily in Google ads that it has given rise to a nascent industry of specialist anti-choice digital marketing companies whose purpose is to help fake clinics target abortion-seekers and, in some cases, apply for ad subsidies from Google.
This report explores three such case studies: marketing agencies Choose Life Marketing, RankMonsters and iRapture, which exposes the digital techniques and tactics used by anti-choice activists to intercept people seeking abortions.
Last year, the CCDH published a report which found that one in ten Google search results for abortion services in so-called 'Trigger Law' states led users to fake clinics. It followed CCDH's 2021 report, Endangering Women for Profit, which found that Facebook and Google had sold ad space promoting the dangerous abortion pill "reversal".
Imran Ahmed, CEO of the Center for Countering Digital Hate, said:
"Google has sold out the trust of hundreds of thousands of people seeking reproductive healthcare and services to a multi-million dollar fake clinic industry that works around the clock to delay and prevent care using deceptive practices.
"Google search results pages are as tightly curated as TV commercial breaks or magazines' ads pages. Google is selling the digital equivalent of Super Bowl slots to deceptive anti-choice bidders, allowing them to distort reality and limit the choices available to those searching for information and options.
"Google built its brand on providing accurate search results, boasting that their motto was 'Don't be evil'. This report shows that they are more than willing to allow advertisers to lie, deceive, limit users' rights to good information and to healthcare, as long as they get paid in the process."
Amy Merrill, co-founder and digital director, Plan C, said: 
"As an organization that has faced censorship and ad blocks when attempting to share evidence-based abortion pill info on platforms like Google, we are grateful to CCDH for leading this research: which demonstrates in real numbers and examples the extent of deceptive anti-abortion advertising and marketing is getting not only visibility but ad bumps on search, and the extent to which Google has benefited from the deception.
"As we and other abortion access organizations band together to fight mis- and disinformation online, data like this will help hold Big Tech and policy makers accountable in helping mitigate the harm of bans and ensuring a better digital landscape for abortion-seekers nationwide."
Reproaction said:
"This report proves with hard data what we knew: anti-abortion fake clinics put a premium on deception, and Google is helping them towards that goal. Google needs to live up to their promises and stop helping the anti-abortion movement spread disinformation and hate."
Angela Vasquez-Giroux, Vice President of Communications and Research, NARAL Pro-Choice America, said:
"The work of anti-abortion extremists is powered by lies and manipulation, so it's no surprise that they're exploiting the lack of regulation to block access to abortion care. This report makes clear what we've been saying for years: the anti-abortion movement doesn't care about pregnant people. They only care about stopping pregnant people from accessing abortion care—especially, as they admit, people who have already decided to have an abortion.

They aren't interested in providing care to any of the countless people who will now be forced to continue a pregnancy against their will. They are only interested in coercing more people into that same harrowing position. This is disgusting, reprehensible behavior—but it's just another day at the office for the anti-abortion lobby."
Jackie Rotman, founder & CEO of Center for Intimacy Justice, said:
"We are concerned about information on these tech platforms that misinform people about their health — and at the same time, tech platforms like Google, Meta, TikTok, and others regularly reject information about other areas of sexual and reproductive health, from menstrual health to fertility and menopause to other areas. The information that does get through, at the same time that other information is blocked and censored about key areas of reproductive and sexual health, is concerning for health information access and equity."