Self-Proclaimed "Free Speech Absolutist" Elon Musk Tries to Silence Independent Researchers Center for Countering Digital Hate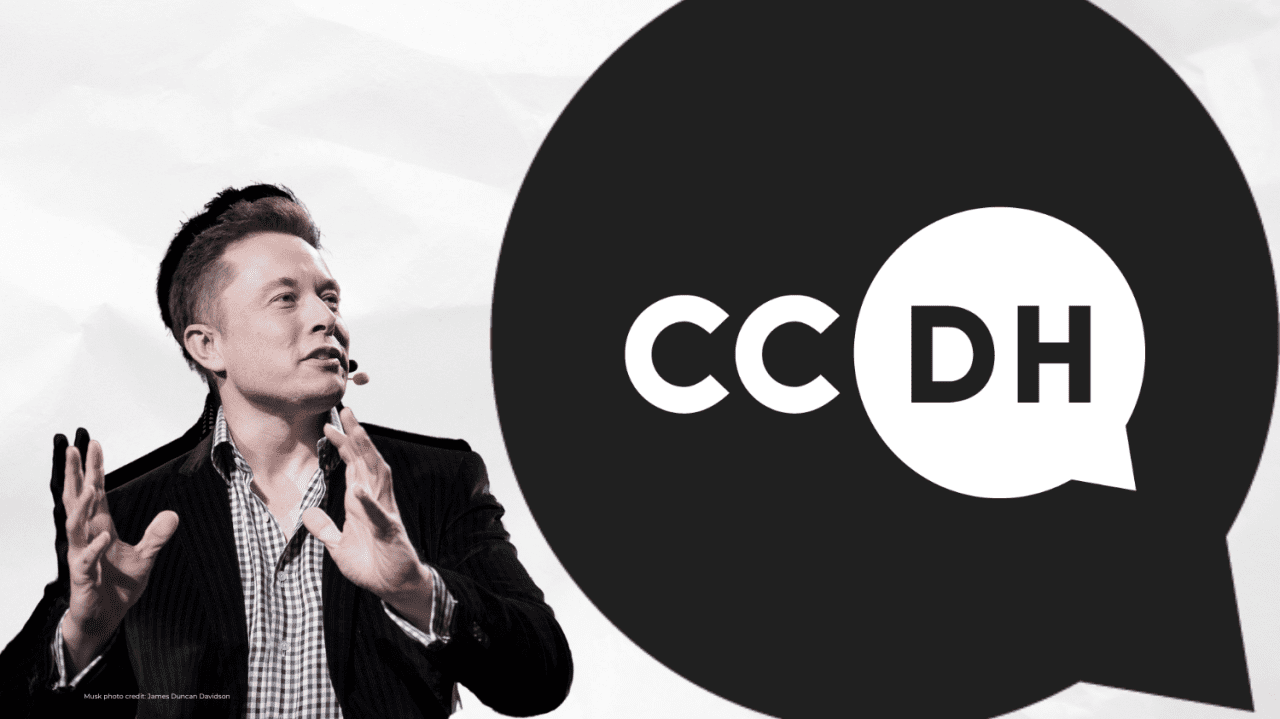 CCDH Research Shows Hate Proliferating on Platform Under Musk; Musk Blames CCDH for Advertisers' Exodus
The Center for Countering Digital Hate (CCDH) has been a leading voice exposing how Musk's leadership and the changes he is making to "X" have led to a proliferation of hate speech on the platform
While Musk proclaims himself to be an advocate for free speech, his latest tactics involve making brazen verbal and legal threats against CCDH, all while allowing racist, antisemitic content to proliferate on his platform
Research by CCDH shows hate speech on the platform has proliferated under Musk, and the company is doing nothing to stop it
Musk has disclosed ad revenue is down 50% since his takeover and blamed CCDH, among others, for advertisers fleeing the platform
WASHINGTON, DC (July 31, 2023) – A lawyer for the Center for Countering Digital Hate (CCDH), an independent research nonprofit, sent a letter today to Elon Musk's legal counsel in response to a blatant attempt by Musk to intimidate and silence the organization, which has published significant research over the past year showing that Musk has fostered the proliferation of hate, racism, and disinformation on the social media platform "X" (formerly known as Twitter), as explained in that letter signed by Roberta Kaplan of Kaplan Hecker & Fink. Musk and his legal team, led by attorney Alex Spiro at Quinn Emanuel, have engaged in an aggressive campaign to intimidate, bully, and silence CCDH, including by Musk calling the organization "evil" and its CEO a "rat," by targeting the chair of the CCDH Board, and most recently by threatening a bogus lawsuit against the organization based on a frivolous legal theory. While Elon Musk proclaims to be a "free speech absolutist," his actions against CCDH show the lengths he will go to silence those who seek to hold him to account.
"Elon Musk's actions represent a brazen attempt to silence honest criticism and independent research, in the desperate hope that he can stem the tide of negative stories and rebuild his relationship with advertisers," said Imran Ahmed, Chief Executive Officer of the Center for Countering Digital Hate. "Advertisers are fleeing his platform for one clear reason: Elon Musk has supported the proliferation of hate and racism on it, and he doesn't care to stop it. Musk is targeting CCDH because we reveal the truth about the spread of hate and disinformation on Twitter under his ownership, and it's impacting his bottom line. CCDH will continue to hold social media companies that spread hate and disinformation online accountable to the public."
Ahmed added: "This should be the last time anyone dares to claim Musk is a 'free speech absolutist' – he is in fact, a bully who uses attack dogs to terrorize his opponents into silence."
When Musk completed his takeover of Twitter in October 2022, he said he would make radical changes to the platform. He put up the Bat Signal to welcome back previously banned users, including neo-Nazis, white supremacists, and known superspreaders of disinformation. At the same time, Musk slashed the 'Trust and Safety Team' and senior managers departed in quick succession, causing the platform to toxify rapidly. His billionaire bully-boy tactics to try to silence his critics are directly at odds with his purported commitment to open and transparent debate. Rather than address serious issues with Twitter's handling of toxic hate and disinformation raised by researchers, Musk has used his platform to launch a series of attacks on independent watchdog groups like CCDH.
The Center for Countering Digital Hate works to stop the spread of online hate and disinformation through innovative research, public campaigns and policy advocacy. Since Musk took over Twitter in late 2022, CCDH has been studying and publishing research on the startling rise in hate speech, disinformation and incitement to harm on Twitter, which has been echoed by the independent findings of other civil society organizations, and researchers around the globe. CCDH believes the public has a right to know about the spread of hate and disinformation on the social media platforms that shape our lives, our culture and our politics.
Research produced by the Center has exposed how Elon Musk's decisions have contributed to the spread of hate and disinformation on Twitter under his ownership:
Sweeping changes to the platform and the escalation of toxic activity, as highlighted by the work of CCDH and other groups, has given rise to advertisers' concern for the impact on brand safety. Musk himself has disclosed that Twitter's ad revenue is down 50%. Members of Twitter's own Trust and Safety Council resigned, citing CCDH findings in their resignation statement. Australia's eSafety Commissioner recently cited CCDH's research as well in a legal notice to Twitter under Australia's Online Safety Act, requiring answers about what it is actually doing to prevent online hate from spreading on its service. Germany and the European Commission have similarly expressed concern, again citing CCDH findings.
Ahmed continued: "Elon Musk wants to silence his critics so he can continue to give a megaphone to hate and disinformation while avoiding the consequences. He thinks he has a right to take advertisers' dollars with absolute impunity for the inevitable consequences of promoting and amplifying hate and disinformation to millions. The Center for Countering Digital Hate exposes hate, lies, and harm wherever we find it. Our work has included studies of self harm and eating disorder content targeting teenage girls on TikTok, the way Google Search ads are sold to people spreading racial hatred and disinformation, and how Meta has serially failed to ensure its platforms are safe for users. We stand by our fact-based research, our demands for accountability, and our right to criticize the world's richest man when appropriate."
###
CCDH is a US non-profit (501c3) that researches the architecture of online hate and misinformation. The Center has offices in Washington, D.C. and London, UK.
NOTES TO THE EDITOR:
Fiction vs. Fact
Fiction: Musk's legal letter has baselessly accused CCDH of being funded by its competitors or foreign governments, being "funded in support of an ulterior agenda".
Fact: CCDH is an accredited 501(c)(3) nonprofit in the United States and a nonprofit limited by guarantee in the United Kingdom. We do not accept any funding from tech companies, governments, or their affiliates.
Fiction: Twitter's representation seeks to undermine the credibility of CCDH's research, stating "CCDH's claims in [its report] are false, misleading, or both" (…) "and they are not supported by anything that could credibly be called research".
Fact: Twitter's lawyers failed to point to any inaccuracies in the research, nor did they refute CCDH's findings. In fact, under Musk's leadership, Twitter itself has taken steps to curtail research on the platform. To criticize CCDH's research for being too limited, while simultaneously taking steps to close the platform off to independent research and analysis is the height of hypocrisy from Twitter.
Timeline of our research, and its impact on Twitter
| | |
| --- | --- |
| 27 October 2022 | Elon Musk takes over Twitter. |
| 28 October | CCDH joins other leading organizations in warning that Musk's plans for Twitter could cause a surge in hate on the platform. |
| 1 November | CCDH joins a coalition of 60 groups calling on Twitter's top advertisers to demand that Elon Musk keep his promises on hate and brand safety. |
| 4 November | Elon Musk claims that hate speech is declining on Twitter |
| 10 November | CCDH uses independent tools to demonstrate that the volume of hate speech on Twitter had actually increased significantly. |
| 18 November | Musk claims that hate speech will be "max deboosted & demonetized" |
| 2 December | The New York Times publishes a front page article about surging hate speech on Twitter prominently featuring CCDH's research. |
| 2 December | CCDH analysis shows "climate scam" tweets have surged under Musk. |
| 5 December | White House press secretary refers to "rising volume" of hate on Twitter. |
| 6 December | Senator Durbin urges Twitter to act on antisemitism, citing CCDH. |
| 8 December | Members of Congress write to Twitter urging action on hate speech, citing CCDH. |
| 8 December | Members of Twitter's Trust and Safety Council resign citing CCDH. |
| 12 December | Musk relaunches "Twitter Blue" offering paid subscribers blue ticks. |
| 18 December | Musk personally attacks Rep. Schiff, author of a letter to Twitter citing CCDH research on hate speech, tweeting "his brain is too small". |
| | |
| --- | --- |
| 23 December | CCDH analyzes popular tweets from Twitter Blue subscribers about Ukraine, climate and vaccines, showing 27% are disinformation. |
| 25 January | HateAid launches lawsuit against Twitter in Germany over antisemitism citing CCDH. |
| 9 February | CCDH research reveals that Elon Musk's decision to reinstate just ten accounts banned for hate and disinformation could make him $19m |
| 9 February | The Stop Toxic Twitter coalition urges advertisers to withdraw from Twitter citing CCDH evidence of ads being displayed next to hateful content. |
| 17 April | CCDH analysis shows climate deniers are growing rapidly under Musk. |
| 18 March | Elon Musk announces Twitter Blue accounts will be boosted in replies. |
| 28 March | CCDH demonstrates anti-LGBTQ+ "grooming" tweets have doubled. |
| 28 March | Congressmen urge Twitter to act on anti-LGBTQ+ content, citing CCDH. |
| 31 May | CCDH research showing Twitter failed to act on 99 of 100 hateful tweets from Blue subscribers. The Daily Beast's tweet with the research reaches 3 million views on Twitter. |
| 5 June | Musk complains that "various nonprofits who influence the advertisers" are "basically cutting their revenue in half". |
| 22 June | Australia's eSafety Commissioner urges Twitter to act on rising hate speech, citing a surge in complaints and CCDH's research. |
| 15 July | Elon Musk tweets that Twitter's advertising revenue has dropped by 50% |
| 18 July | Elon Musk tweets describing CCDH as "truly evil" and its CEO as a "rat". |
| 19 July | Mark Ruffalo criticizes Musk's attacks on CCDH, defending our work. |
| 19 July | CCDH research is quoted in a Bloomberg article, republished by Time, as evidence that surging hate on Twitter is causing advertisers to withdraw. |
| 19 July | Twitter CEO Linda Yaccarino claims the article is untrue without basis. |
| 20 July | Elon Musk instructs his staff to demand a meeting with the chair of CCDH's board, and instructs lawyers to send a legal threat to CCDH. |